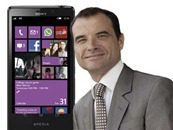 Sony Mobile is edging ever closer to releasing a Windows Phone handset.
Sony Mobile's UK & Ireland MD Pierre Perron speaking at IFA told reporters:
'Sony's strategy is one of openness. Microsoft is a Sony partner with the likes of our VAIO laptops and it's integrated onto our tablets. As far as Xperia smartphones go, Android remains the preferred partner, although Sony is not a single partner company. We are currently investigating with the likes of Microsoft the possibility of diversifying our product strategy.'
He noted that a key element of the forthcoming marketing campaign would be highlighting the convergence between Sony's mobiles, tablets and televisions, for example sharing music and photos between two NFC-enabled devices by touching them together, rather than using Bluetooth or Wi-Fi. This will be a strength of Windows Phone 8 phones and Windows 8 tablets.
The new openness is a change from previously when the Sony Ericsson CEO said "At this point I wouldn't feel comfortable investing in a platform that isn't as good as the one that we currently use. Therefore we have remained with Android, but I am quite curious about Windows Phone".