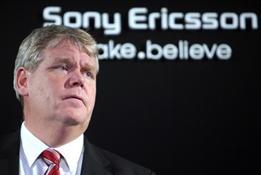 Bert Nordberg, CEO of Sony Ericsson, does not think too much of Windows Phone 7.
Head of the loss-making company, which saw its market share drop from 4.3% 2 years ago to 1.7% this year, spoke in passing about the OS to the Wall Street Journal.
When asked about their willingness to adopt Windows Phone 7, like many other OEMs rather being exclusively Android Bert responded:
Mr. Nordberg: At this point I wouldn't feel comfortable investing in a platform that isn't as good as the one that we currently use. Therefore we have remained with Android, but I am quite curious about Windows Phone.
He goes on to explain that Sony Ericsson is always behind with technology such as LTE and Dual Core chipsets because "no guarantee that consumers will buy, just because we develop it" and observed that they over-estimated their chances when it came to dominating the Android market. The company intended to become "the world's largest maker of Android handsets", but has so far managed only 11% of the market.
I think if Sony Ericsson does manage to push out a Windows Phone, we will probably not buy is as the company is not quite as good as the companies we use at the moment.
Read the full interview at WSJ here.