While the tech world is talking about Windows Phone 10 we managed to squeeze in Windows Phone 8.1 Update 2 on our Lumia 830. A few days back Microsoft confirmed that Update 2 will come to existing devices, like the Lumia 830 and 735, but didn't give any timeframe for the release. While updating our Lumia 830 to Windows Phone 10 Technical Preview we ended up installing Update 2 on our phone, the presence of which was later confirmed by Microsoft. So we decided to take a pause with the update process and held on to the Update 2 so that we could give our readers an in-depth look on how it performs on existing devices. So without further ado, head below to check out all the new additions.
New updated Settings:
Windows Phone 8.1 Update 2 brings the newly designed Settings app which organizes all the settings into groups so that you won't have to keep scrolling up and down. Another small addition includes the option to search for settings. Arguably the biggest improvement included in the update is the ability to pin all the settings to the start screen. Check out the screenshots below for a detailed view.
App Permissions:
Windows Phone 8.1 Update 2 includes a new settings option which details the permission(s) given to each app to access some specific user data. It's similar to the Privacy settings on Windows 8 PCs. You can see what all apps are accessing your Microphone, Camera or Contacts. Moreover, you can also manage these permissions. This is advantageous for the user from the privacy viewpoint. Here are a few screenshots showing the app permissions setting.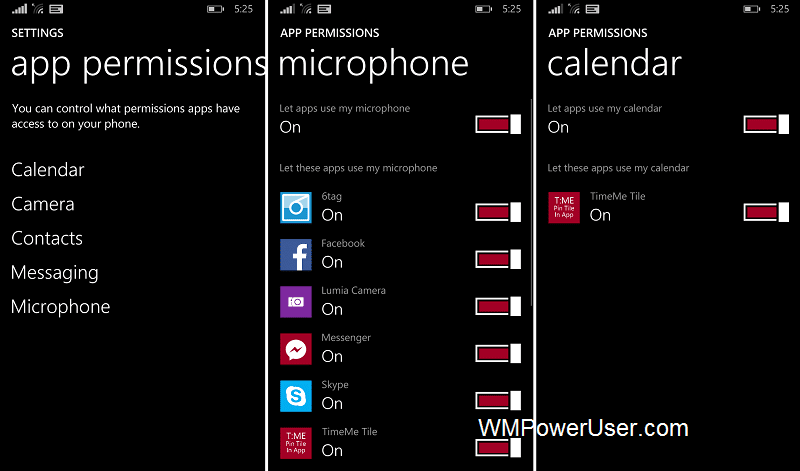 Editable Device Name:
Until Windows Phone 8.1 Denim update we had to connect our device to a PC if we wanted to change the device's name, but Update 2 has added a new ability. With the new update you can edit the device's name in the settings itself. It is a small but welcomed change. Check out screenshot below to see the it in action.
Other significant changes:
Few other useful changes include:
Support for Bluetooth keyboards- As detailed earlier, Update 2 includes the support for Bluetooth keyboards.
The "All Apps" text on the bottom- If you scroll down on your start screen, then you will see a text saying "All Apps" with an arrow. Earlier versions of Windows Phone included just the arrow key.
See the number of the week in the Monthly View in the Calendar app.
Data toggle in action center (device already on Preview for Developers have had this).
Cortana can help users in new languages: French, German, Italian and Spanish.
That's all from us for now. We recommend you to bookmark this article as we will update it if we find something new. For now let us know your thoughts about the update. For the daredevils out there, we have posted a guide on how to get Update 2 without upgrading to Windows Phone 10 here.
Update: We have just found more changes in Update 2. Check them below.
New Call animations:
The Windows Phone 8.1 Update 2 added new improved animations when making a call and hanging up. The change is a bit hard to notice but you can check the same below.
Update 2:
Double Tap to lock the screen:
As we dive more into the update, we are finding more and more hidden features available. Today we discovered another feature, not on our Lumia 830 but on Lumia 730 and Lumia 640 XL. This feature is the extension to double tap to wake up. It allows you to turn off the display by double taping on the screen. Sadly, this feature only works on devices with on-screen buttons like Lumia 640. You need to double tap on the screen between the back button and the home button to turn off display. Check out the screenshot showing the new feature.