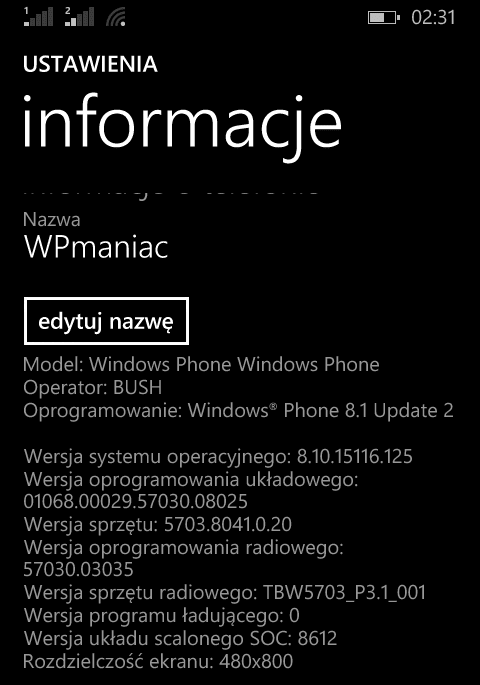 We reported earlier that using the Windows Insider app we were able to upgrade our Lumia 930 to Windows Phone 8.1 Update 2, which brought support for goodies like a data toggle, Bluetooth keyboards, improved settings and more.
Now WindowsMania.pl reports that the feature seems to be applicable to any handset which can not use the Windows 10 Mobile Technical Preview, which includes devices such as the Bush Windows Phone above. Other candidates of course include Samsung and HTC handsets.
Given the state of the Windows 10 Mobile Technical Preview at present I think this may actually be the better move.
The list of handsets which will get Windows 10 Mobile TP include the Lumia 1020, Lumia 1320, Lumia 1520, Lumia 520, Lumia 525, Lumia 526, Lumia 530, Lumia 530 Dual Sim, Lumia 535, Lumia 620, Lumia 625, Lumia 630, Lumia 630 Dual Sim, Lumia 635, Lumia 636, Lumia 638, Lumia 720, Lumia 730, Lumia 730 Dual SIM, Lumia 735, Lumia 810, Lumia 820, Lumia 822, Lumia 830, Lumia 920, Lumia 925, Lumia 928, Microsoft Lumia 430, Microsoft Lumia 435, Microsoft Lumia 435 Dual SIM, Microsoft Lumia 435 Dual SIM DTV, Microsoft Lumia 532, Microsoft Lumia 532 Dual SIM, Microsoft Lumia 640 Dual SIM and the Microsoft Lumia 535 Dual SIM. Do not try this with those handsets if you do not want Windows 10 Mobile.
Did you have success with the minor hack above on your phone? Let us know where and with what handset below.
Update: How to get Windows Phone 8.1 Update 2 on any device without Windows Phone 10 (Follow these steps carefully. You won't know when you end up on Windows Phone 10 instead of Update 2).
Step 1: Fist open the Phone update under settings and uncheck the "Automatically download update if my data settings allow" option. (Screenshot-1)
Step 2: To get Update 2 on your handset download and sign up for the Windows Insider program on your phone.
Step 3: Set it to Fast Track, and then check for updates in settings.
Step 4: You will see an update pop up or a notification in Action Center. Download the update.
Step 5: After the download is started, go to app list and uninstall Windows Insider to prevent Windows Phone 10 update.
Step 6: Don't click on install. Hit Show details option and verify the update version shown below. (Screenshot-2)
Step 7: If the version number matches, install the update. You will soon be on Windows Phone 8.1 Update 2.
Note: By following the above process, we cannot guarantee that you won't end up on Windows Phone 10. Do this at your own risk. We won't be responsible if you get Windows Phone 10 update.