You could be forgiven if you haven't heard of the NuAns NEO, it's a new Windows 10 Mobile device straight out of Japan. The device was expected to come to other countries, but that probably won't happen. It has an interesting and distinctive customization variety, with a huge variety of cases and options to choose from, oh, and also, it supports Continuum.
This is a Windows 10 Mobile, but unlike one you've seen before. It actually seems we're being treated over here in camp Windows Phone, with the HP Elite X3 on the horizon, new and better UWP's being developed, and now a brand new Windows 10 Mobile with Continuum support and unique customizable options? Let's do this.
Video Review
Design
Let's get stuck in with the unique feature of this phone – it's the customization. This isn't just about picking your look for the NEO, it actually makes up an integral part of the device.
Initially, the phone simply comes as a 'Core' which pretty much only gives you the device and a charging wire. It looks like a normal device with the back off, that is of course until you add the cases to not only complete the construction but also, the look of the phone. The amount of options for customization is awesome, NuAns you really are spoilt for choice here! The cases come in two forms, either a two-tone selection, which is made up of a top and bottom or a full 'Flip' cover, which covers the phone from front to back.
All of the cases are really well designed and have a real feel of considered care and personal touch. NuAns are clearly super passionate about these cases and it shows in the quality. The two tone selection of cases range from a military green khaki to a smooth suede and pretty much everything in between. I'm currently rocking the Dark wood topped with a smooth black. The flip covers are also an excellent example of wonderful design. They clip to the back of the device and cover it entirely wrapping it into a wallet-style of the case. There's also a magnet embedded within, which turns the screen on or off depending on whether you open or close the wallet. And as a cherry on top, the case also folds out to become a make-shift kickstand for the phone as well. Neat.
You might notice that after attaching the case that the phone does seem a little chunky, it reminds me personally of my old Lumia 920 (god rest its soul) However it does have two good reasons for the heft, number one being a large 3350MaH battery, which is always a welcome sight and number two is a little more in-depth. Effectively NuAns have noticed that while so many people enjoy having have a slim and metallic phone it's very rarely seen, and that's because people usually throw some form of case on them on them. The NEO is designed to not need a case, and the casings you choose for it act as double duty, so be part of the phone and the case.
In other design features, it's good to see the addition of a Micro SD card slot, but there's something a little more interesting at work here as well. The NEO has a card slot grooved next to the battery, the idea behind this is so you can add any NFC enabled card into the phone, whether it's a bank card or an oyster card, allowing you to simply tap your phone instead of fumbling to get your card out.
We're also rocking USB Type C which is a nice future proofing addition which also comes hand in hand with fast charging.
Display
A real pain point for the NEO is its screen. It's a 720p panel, and while I know you shouldn't judge a screen by its resolution alone (look at the iPhone for instance) it's a hard to digest that a company's flagship device is running on this resolution in the tail end of 2016. While colours and viewing angles are just fine, pixels make a visible return to the screen when we've all but forgotten them in this age of Quad-HD-pixel-peeping-monsters.
I could forgive resolution of the screen if it was super bright, super responsive, or if the device was overall cheaper. But it's simply not. I found myself having the screen at 100% all the time, regardless of the light level. The second you take this phone outside, even on the moderately bright day the screen suddenly becomes really difficult to see, this is especially apparent when trying to take photos, which just turns into a case of pointing the NEO in the right direction and hoping for the best.
Camera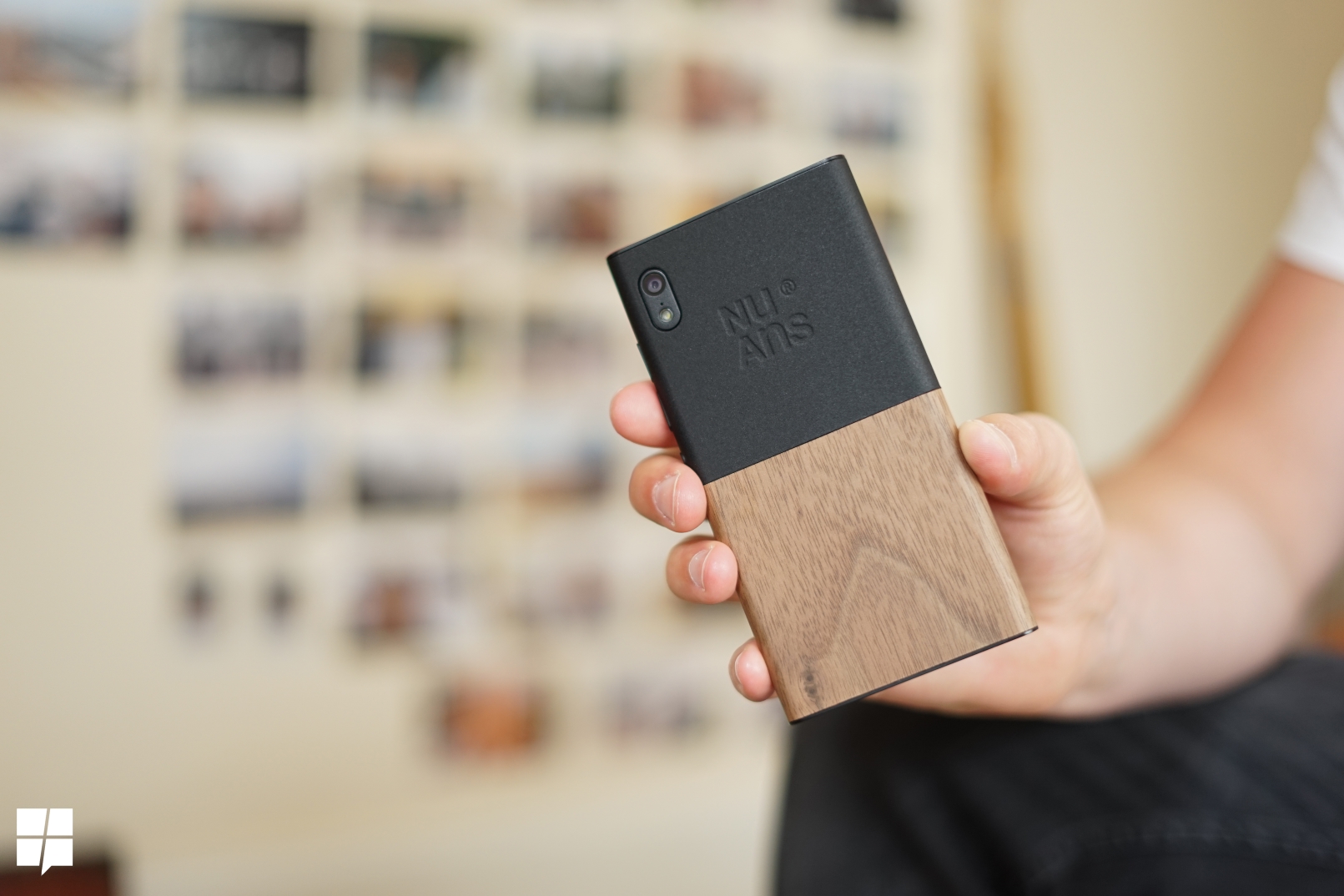 Camera-wise the NEO is pushing a 13Mp snapper. Now, a lot of phones nowadays seem to run on a 13MP sensor, and they can really range from being simply spectacular to absurdly average, and unfortunately, the NEO seems more, well, average.
Photos from the NEO learn towards a flat, muddy, and sometimes noisy profile. They can occasionally look ok on the surface but a small zoom will reveal all sorts of troubles this camera has.
There is an HDR setting which can help in more difficult lighting situations if you're prepared to deal with the noise that accompanies it. The camera has the tendency to underexpose too unless you're in optimal lighting, and then even if you are it struggles to pick out finer details, the grass here is a good example of that.
Another frustration is that the viewfinder frame rate can't seem to keep up with the camera, there were plenty of occasions where the screen would stutter while moving the camera around. Autofocus was also pretty hit and miss and the focus time was also disappointing, the NEO hunted quite a lot before taking snaps, even when tapping to focus.
This combined with the dark screen make the camera experience on the NEO somewhat lagging, which is a real shame.
All that aside, it's not to say it can't take nice photos, because occasionally it'll take something that's more than good enough for a social media share, keeping colours fairly neutral and details quite well. It just doesn't happen often enough to save it.
Software
Onto software, the NEO runs Windows 10 Mobile, and while it does still lag behind its iOS and Android counterparts, it has seen some decent updates recently. Twitter, Facebook, and even Instagram now run a lot better on the system thanks to some new apps, despite some of them being iOS ports. The anniversary update for Mobile, which will roll out soon to the NEO, has also made the system, feel more complete as a whole.
The bigger story here is that the NEO runs Windows 10 secret move, Continuum. Thanks to a Snapdragon 617 octa-core chip coupled with 2GB of Ram, the NEO can continue to push Windows mobile to the big screen through a wireless connection. While Continuum hasn't seen any huge updates recently it has the addition of a few new apps including Instagram, which runs quite nicely on the big screen – and I'm sure it'll continue to develop as developers continue to make UWP apps for Windows 10. And of course, Microsoft office is here in its full glory, the real poster child of genuinely amazing continuum apps.
Battery
Back to good things now, the battery on the NEO has been very good, getting through a day hasn't been a challenge, I generally find myself with 15-20% of power as the day comes to an end. I must admit I expected a little better than that considering the screen resolution and brightness output. However, I was happy nonetheless.
Rapid charging certainly lived up to the claims as well. I could easily pour in a lovely 70-80% of charge within one hour, so it's easy to top up if you are next to a power outlet before a long trip.
Who is it for?
So with all of that, you might find yourself wondering who exactly this phone is for? Who is it really aimed at?
Well the NEO isn't trying to convince people to switch from iOS or Android to Windows 10 Mobile, if you're considering this phone then you've probably already made your decision. It's aimed at people who might already be convinced on Windows Mobile, and let's face it if you want a Windows phone with awesome customizable options and Continuum support your choice is actually very slim, so this phone might stand out for you.
There's also the argument that the NEO is aimed at Business people who want an entire solution for themselves or from their employees' devices. A huge amount of businesses will be running on Windows 10, so having employees phones run Windows 10 Mobile makes sense – it also gives them more control over the phone as a whole, even incorporating company specific apps. The continuum support almost speaks for itself in terms of business too, having office documents available at all times for editing regardless of what screen you have access to makes a lot of sense.
Conclusion
So let's round up. On the plus side, I think the customization is really unique and an interesting way to design a device and the fact it supports Continuum is always a welcome sight in a Windows Phone. On the negative side, the screen definitely needs an upgrade, and the camera didn't hit the right notes for me at least. So there we have it, there's no doubt in my mind that this is one of the most unique phones of this year It's flawed, sure, but there really isn't another phone like it, and to say that in 2016, is a complete rarity.
So props to NuAns for trying something different in the market of boring-black-slabs.