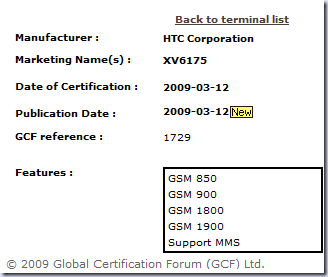 We are always working for our readers, trying to find the smallest clues for HTC's future plans.
One such clue just popped up – certification at the GSM Global Certification Forum for a new HTC handset, the HTC XV6175.
We know its Verizon, because the XV nomenclature is the one they use for all their HTC smartphones. That does leave a mystery – Verizon is obviously not GSM, so a device which works on the GSM 850,900, 1800 and 1900 bands wont do them much good.  Of course it could be a dual GSM and CDMA\EVDO device, which again is suggested by the lack of any 3G connectivity in the certification.
Unusually this year we have access to HTC's full 2009 line-up, so we can pick and chose amongst the devices to see which one best fits the bill.
The HTC Twin, which is CDMA and GSM. The other rumours however suggest this device is not destined for Verizon.
Next we have the HTC Whitestone W, which is supposed to come to Verizon, but only in September.  It however is a good candidate.
Lastly is the HTC Cedar. This Maple-like Windows Mobile Standard device has not been rumoured to be dual GSM and CDMA, but it certainly was aimed at Verizon. The low number XV 6175 (the Mogul was XV 6800) suggests to me a lower-end device, which the Cedar certainly is.
So, unfortunately, I would suggest, between the 3, the Cedar is most likely, but the WhiteStone is a much less likely possibility, which might cheer people up a bit.
See the GCF page here.