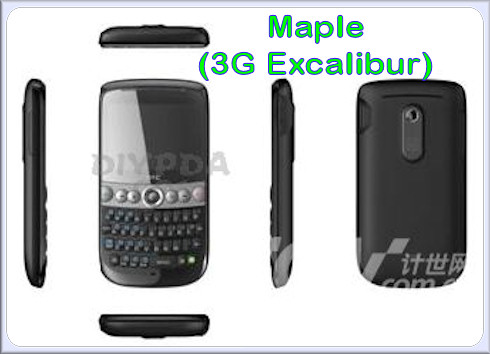 It seems we still have not seen all devices revealed at Mobile World Congress, which closed more than a week ago.
CNET Germany has managed to get their hands on HTC's attempt to finally update the HTC Excalibur, and as produced a very similar-looking device, the HTC Maple.
First leaked in January with the rest of HTC's roadmap, the Maple is a 3G Windows Mobile Standard device which is equipped with a large, comfortable screen and a trackball, and apparently continues HTC's new tradition of people-centric communication which HTC calls "Inner Circle", which aggregates information about people in different ways depending on the day of the week.
Pictures show the device to be clearly very slim, and much thinner than the 13 mm HTC Touch Diamond 2. The device is still however pretty large.  Full specifications have not been released yet.
See the video below for the device in action, and see more pictures at CNET.de.
[flv:http://downloads.cnetde.edgesuite.net/cnetde/reviews/2009/02/htc-maple.flv 600 338]
Via Engadget.com (Thanks Wreiad for the tip)