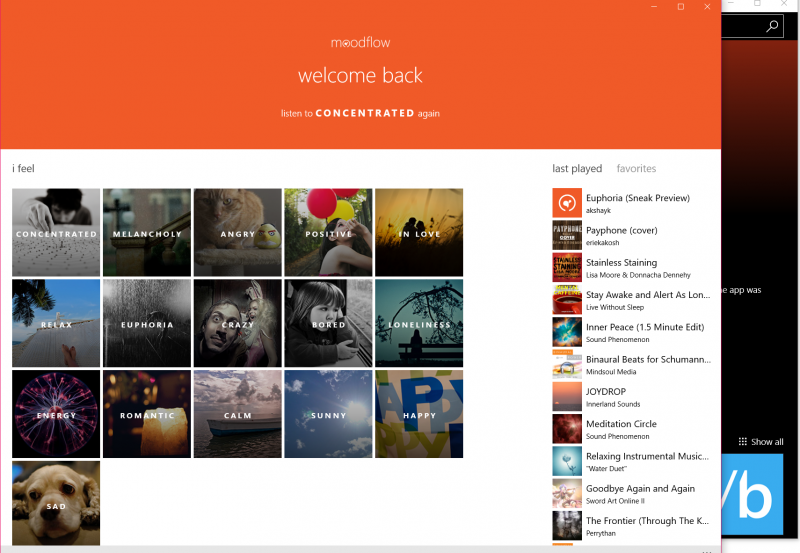 Soundcloud may not be in the Windows Store, but its open API means that developers can build experiences tailored around it for different platforms.
Moodflow is one of my favourite Soundcloud implementations on Windows. It isn't a vanilla Soundcloud app, its not even  a full featured one, it has one goal and one goal only – to generate  a playlist for you based on your mood.
I'm a pretty lazy guy when it comes to music.  I still have all my songs from my teens and I still mostly listen to new music by the Groove Music radio functionality. Moodflow is a lightweight, well designed app that helps me listen to music that I wouldn't listen to otherwise. It has 16 "moods" available, ranging from "happy" to "concentrated" to "in love" and everything in between. Your play history also syncs between your devices so you can quickly go back and play a song if you liked it earlier. It has no offline functionality or anything like that, it just does one thing and I happen to think that one thing is worth having it installed on my phone.
It's a universal app on Windows and Windows 10 Mobile, so you can pretty much expect it to look good on both devices. Unlike most apps, it has a specialised UI on mobile devices, so that you get the best experience on the device that you're currently running at the moment.
Gallery
Here's the feature list from the store:
Music by mood
Tracks history
Tags
Favorites
Live tile
The app is free to download, but you're limited to 6 skips a day unless you opt to spend $1.99 to unlock unlimited skips in the app – or just want to support the developer (either is fine).
Download Moodflow for Windows 10 from the store link below: