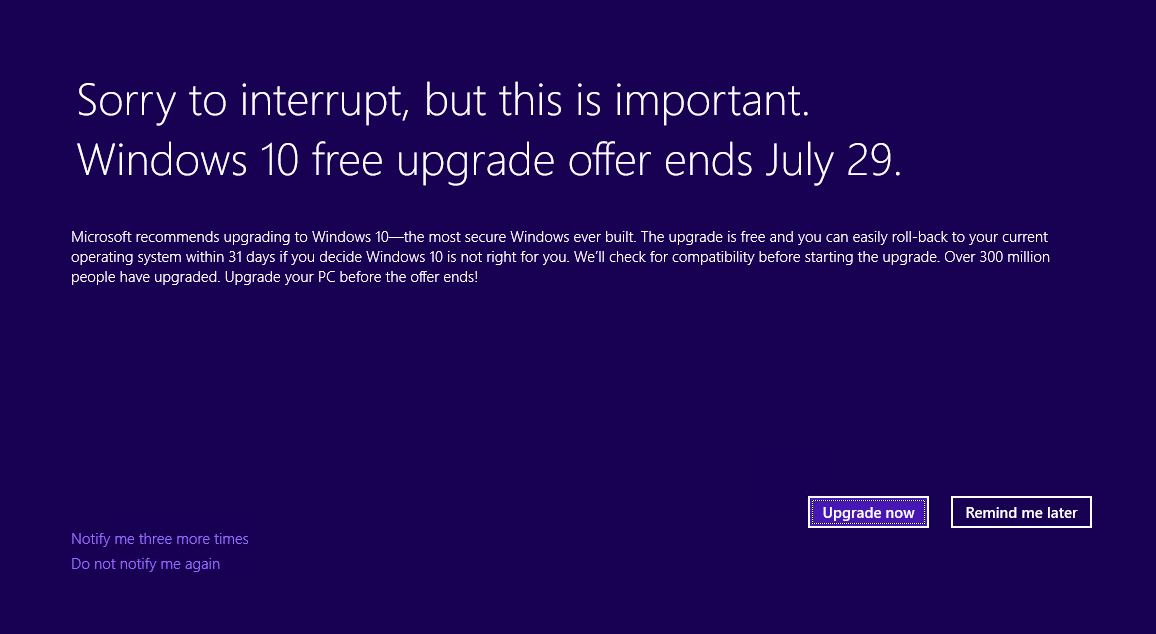 Windows 10's free upgrade offer will end in just about one month. As the upgrade offer is about to end, Microsoft has introduced a new full-screen notification for the upgrade offer. The notification, which you can see in the above screenshot will appear on Windows 8.1 and Windows 7. The notification will remind you that the upgrade offer will end on July 29, meaning that you'll have to pay to upgrade to Windows 10 if you don't get the free offer before July 29. Microsoft states:
This notification is a reminder that the Window 10 free upgrade offer ends on July 29, 2016. Microsoft recommends that you upgrade to Windows 10 before the offer expires. You can choose to upgrade directly from the notification, dismiss the notification permanently, or choose to be reminded later. For more information about the Windows 10 upgrade and how to manage notifications, see the "More Information" section.
It is worth noting that the new full-screen notification will not appear if you have a recent version of the Get Windows 10 app installed. Moreover, once you click "Do not notify me again" in the prompt, you'll not see the notification again which is pretty useful. Lastly, Microsoft will not show the notification if the Windows 10 installation failed once, or if you disabled notifications from the Get Windows 10 app. And if you don't want to miss out on the upgrade offer, you can click on the "Notify me three more times" button which means you will get notified three more times about the upgrade before July 29.
Windows 10 already has more than 350 million active devices, and the new notification for the upgrade offer will probably give it a boost throughout July. What do you think of the new full-screen notification for the Windows 10 upgrade offer? Let us know in the comment section below.