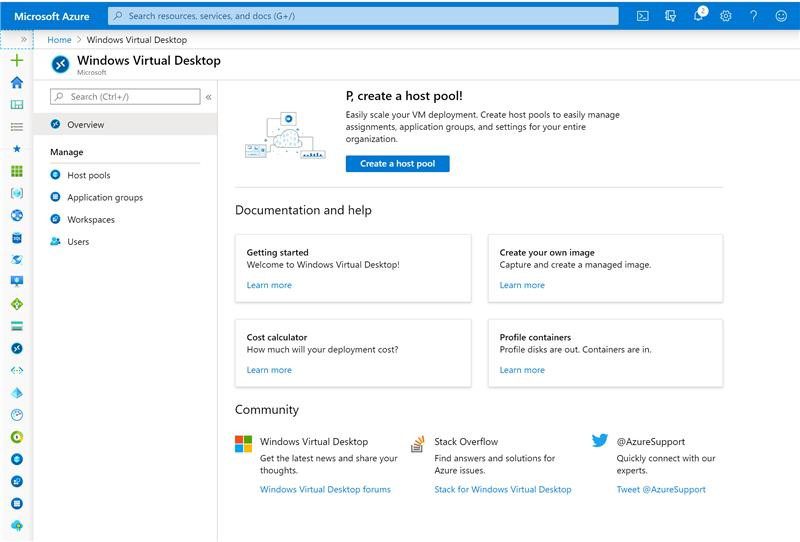 Back in September 2019, Microsoft announced the general availability of Windows Virtual Desktop, a desktop and app virtualization service running in Azure. It offers simplified management, multi-session Windows 10, optimizations for Office 365 ProPlus, and support for Remote Desktop Services (RDS) environments. Enterprises can deploy and scale Windows desktops and apps on Azure in minutes, and get built-in security and compliance features. Microsoft today announced significant updates for Windows Virtual Desktop.
Updated management experience—Microsoft is introducing new management experience deeply integrated into the Azure Portal. You can set up host pools, manage applications or desktops, and assign users—all from the Azure Portal. Microsoft has also improved the auto-scaling experience through integration with Azure Automation and Azure Logic Apps.
Compliance and security—Windows Virtual Desktop is already available worldwide and today we are giving users choice on where to store the service data to meet your regulatory and compliance needs. releasing support for service databases distributed across Azure regions for regulatory and compliance needs of data residency—service metadata can be distributed across the U.S. and Europe, with additional regions coming soon. In addition, Microsoft announced following security improvements.

Ability to add groups of users to Windows Virtual Desktop using Azure Active Directory (Azure AD) groups.
Support for static or dynamic conditional access policies.
Support for mandating multi-factor authentication (MFA).
Windows Virtual Desktop integration with Azure role-based access control (RBAC) and analytics for greater administrative control over user permissions.
Ability to choose the geography you want to store your service metadata for the best possible regulatory compliance and performance.

Upcoming support for Microsoft Teams—Microsoft will be improving Teams experience on Windows Virtual Desktop. Microsoft will be using "A/V redirection" for video calling. This will create a direct path between your users when sharing video, significantly improving the video and audio experience. This feature will be available within a month in Public Preview.
Microsoft is releasing a new Windows Virtual Desktop SDK to its development partners to support the creation of Linux-based thin clients.
Source: Microsoft