Is Copilot the best AI companion out there? Help us find out by answering a couple of quick questions!
Microsoft is now rolling out the new ChatGPT-powered Bing's UI to the mobile devices of some testers. Early users of the intelligent search engine reported seeing the mobile version of Bing hours ago but said that it is not yet functional.
Microsoft is continuously testing and refining the new Bing, with its initial test started on the desktop version of Bing. Now, it seems the Redmond company is moving its test to the mobile experience, despite the entire Bing test still limited to its testers on the waitlist.
In the recent screenshots shared by some of Bing's early users, it can be seen that Microsoft has already released the mobile version of Bing's chatbot UI. Unfortunately, users who already have it shared that the feature is not yet available.
"No one has access to this feature yet, but the UI is slowly rolling out," one Reddit user said. "I just started seeing it a couple of minutes ago. So it may go live soon."
"Can confirm this is a real UI but not working yet." commented another user. "You can get it up by going to bing chat on mobile, loading the page in desktop mode then putting it back in mobile view."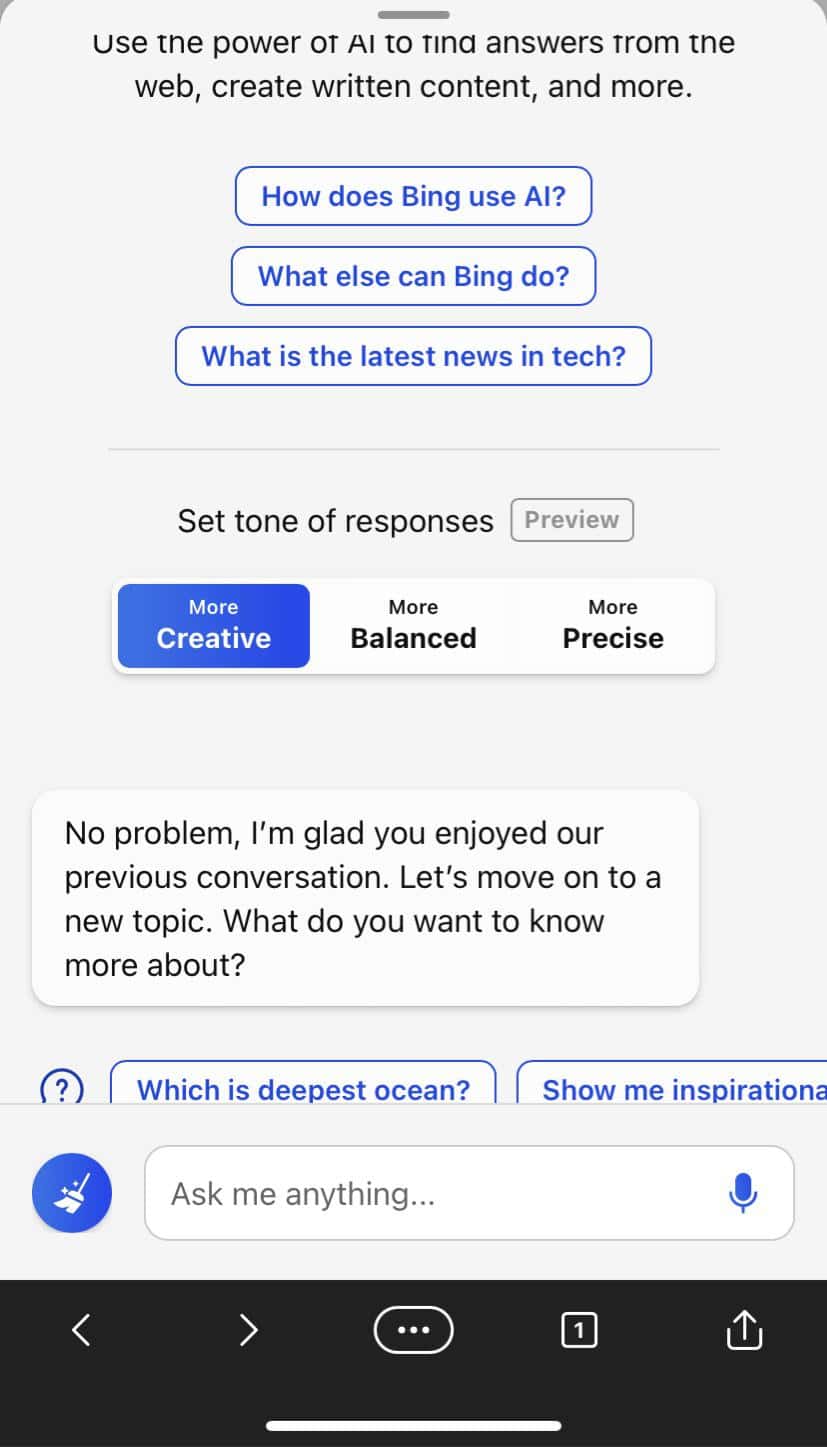 The mobile UI of the new Bing is optimized for mobile and comes with different essential controls, like a microphone icon for hands-free query dictation. Interestingly, some screenshots shared by the users show the mobile Bing chatbot featuring a "tone" setting, giving them the options for "More Creative," "More Balanced," and "More Precise" responses. Some believe that the setting could be Microsoft's way to bring back Sydney's original tone, which is now controlled by Bing's recent updates like chat query number limit. Unfortunately, proving this is not yet possible as the entire mobile version of the chatbot is not yet supported. In a report shared by Bleeping Computer, nonetheless, it was revealed that Microsoft has been testing different modes for Bing, allowing it to behave in different ways. The test includes the "Friend" mode, which seems to enable Bing to sympathize with the user, indicating that the Redmond company is really finding ways to make Bing's original behavior still accessible to users.
This story is still in progress. We will provide more updates about it as we gather more information.