Is Copilot the best AI companion out there? Help us find out by answering a couple of quick questions!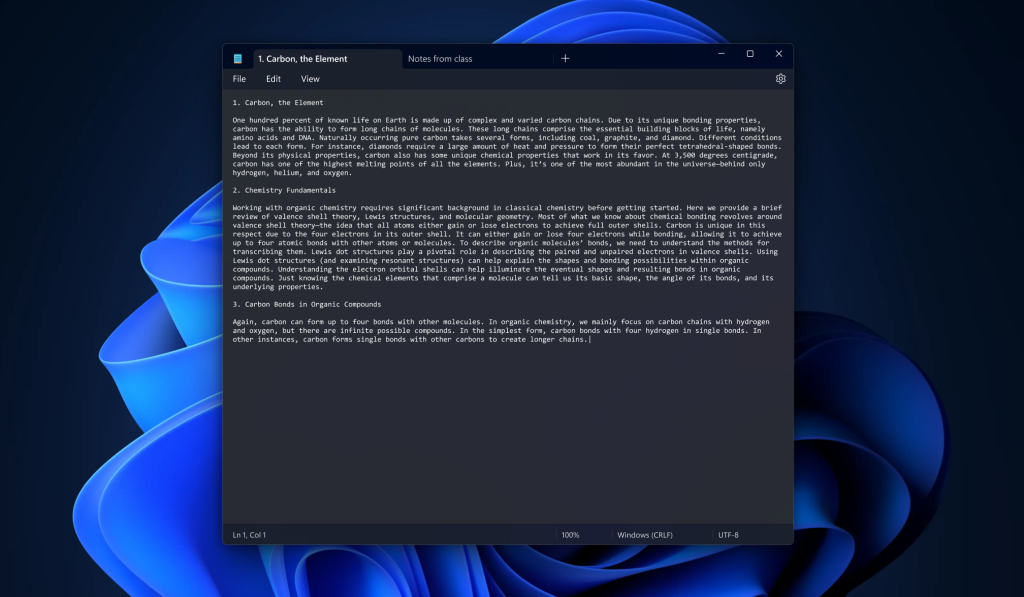 Microsoft is finally testing tabs in Windows 11 Notepad, which means it could come to general users of the OS soon.
In December, a Microsoft employee accidentally made a tweet revealing the software's plan to improve Notepad. The "confidential" tweet showed a screenshot of the Notepad with tabs. Now, it is officially rolling out to Windows Insiders in the Dev Channel.
The update to Notepad (version 11.2212.33.0) brings tabs that behave like a regular browser that supports multiple tabs. Aside from allowing users "to create, manage, and organize multiple files in a single Notepad window," you can drag a current single tab from a set to separate it and open a new window. In relation to that, there will also be a new option you can use to open files in new tabs or a new window by default.
Making this update more convenient is the bundle of new keyboard shortcut keys for managing tabs. According to the software company, it also introduced unsaved file management improvements. Some of these capabilities are identical to the ones in some Office apps, such as the automatic generation of the tab's file name based on the content and a "refreshed" unsaved changes indicator. Unfortunately, while these new capabilities coming to tabs in Notepad is pleasing, Microsoft noted that there are still some issues Insiders should expect, especially in shortcuts.
"We are aware of a couple of issues that may impact your experience with this preview," said Dave Grochocki, Principal Program Manager Lead of the Windows Inbox Apps team. "Some users might encounter issues with certain keyboard shortcuts, and we will also continue to optimize performance to ensure Notepad continues to meet our high standards of performance, reliability, and compatibility."
In case Microsoft decides to officially release the feature to the entire Windows 11 user population, Notepad will be the next Windows app to get it after its introduction to File Explorer. The idea of tabs, nonetheless, is not new in the Windows platform. Years ago, the software company tested it on all Windows 10 apps under the name "Sets" and later canceled it. Now that the tabs are back, it is possible it will soon come to other Windows apps as well. In that case, what do you think are the apps that should get tabs next?