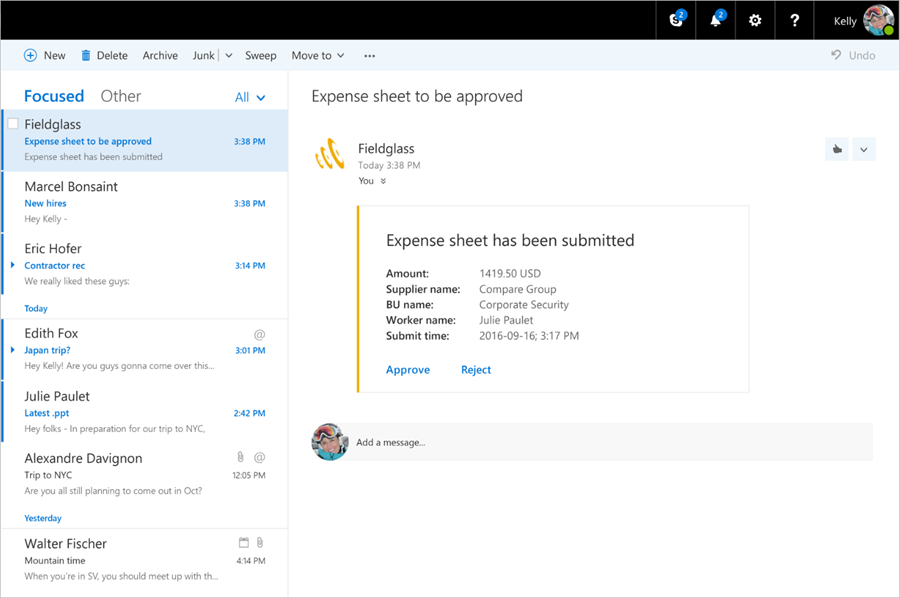 Apart from the announcement about bringing Office 365 Connectors to the Outlook inbox, Microsoft today announced a new feature called Actionable Messages. Actionable Messages will allow users to take quick actions such as updating a task or liking a social media post right from an email with no need to visit another app or service. For example, take a look at the above image. You can approve an expense sheet from Fieldglass without the need to navigate to the service.
For example, when you enable the Trello connector in Outlook on the web, you will be able to receive a notification when someone creates, moves or comments on a card on your Trello board. The notification will now also include quick actions, such as adding a due date, adding a comment or moving a card, which you can take right from your email.
Any app or service can turn any email they send into an Actionable Message and surface contextual actions directly in Outlook. Microsoft said that services such as SAP Fieldglass, Microsoft Flow and TINYpulse will soon start sending out Actionable Messages that will allow users take action from within the email.
For now, this new feature will be available in preview in Outlook on the web for Office 365 users and will initially be available for Connectors from Asana, Bitbucket, GitHub, Trello, Twitter and Wunderlist.