Last year, Mark Zuckerberg was quoted as saying "Facebook is all in with Windows 10" at Microsoft's Devices conference. The firm promised to bring apps for Facebook, Instagram and Messenger – its three main apps (with the exception of WhatsApp) to the Windows 10 ecosystem, and has till date delivered. Currently Facebook provides Windows and Windows phone apps (currently separate) for Messenger, Instagram, WhatsApp and Facebook proper.
On the surface level, this seems like a lot of support for the platform. With roughly 8 independent apps, Facebook is providing Microsoft's platform with a lot of utility near equivalent to the level of support on other platforms.
However, when you dig a little deeper, you may see why Facebook and Windows fans have a frayed relationship. Facebook messenger for Windows for one is a near basic chat client, lacking the design flair users know Facebook can bring to Windows. The same app also makes inadequate use of the new modern design language and looks somewhat less polished than alternative apps offered by Viber, Line and Microsoft themselves.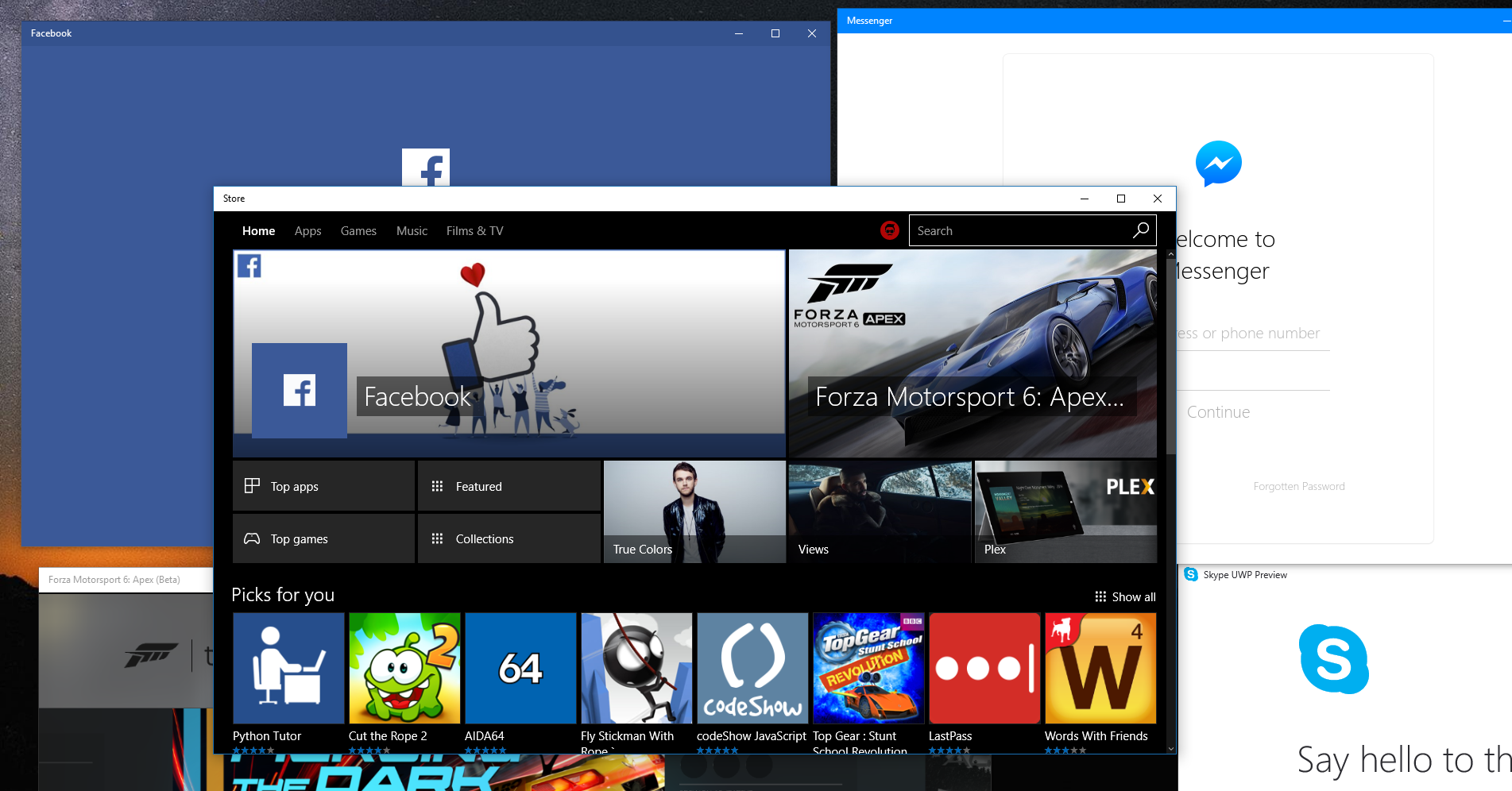 But let's not forget that it is Facebook's brand that is ultimately at stake here, so the company has an interest in making sure its Windows 10 apps look and work well, especially after such a declaration as being all in. One of the key contentions Windows fans have had with the apps is that they have been "ports", created by Facebook's OSMeta tool to allow for quick sharing of code cross-platform. Facebook did not confirm or deny the use of this technology, but they have been working on the app for a number of months. Whether or not the app is a "port" doesn't need to factor here.
The way I personally see it, even if Facebook may have started out using the OSMeta code to port the Facebook iOS codebase to Windows, that doesn't matter. The Facebook app for Windows 10 does not bear resemblance to the iOS app other than superficially, it makes use of the live tiles and toast notifications and looks pretty good on ultrabooks and high resolution displays. While the app doesn't work on smaller Windows tablets – and really there aren't many of them – it still provides an acceptable experience.
Messenger for Windows 10 is similar. While it appears to be based on iOS code as well, the app ultimately behaves like a Windows app where it counts. It integrates with file explorer, has a user interface that fits in with Microsoft's MDL2 design (although poorly) and supports keyboard and mouse. Even though it doesn't support Facebook payments and calling features, most people tend not to use those features much, so it is justifiable that they are focusing on the mainstream rather than fringe features.

Users on Windows 10 Mobile may not be so convinced. While Facebook has released a new Windows app for PCs, phones remain left out and even Instagram for Windows 10 has become outdated 13 days after release in terms of design. In the case of Instagram especially, this brings back bad memories of Instagram launching a Windows Phone app and then never updating the app for a year. Some may call this a pessimistic outlook, but it still remains one shaped by experience.
Even the Facebook app for Windows 10 Mobile – despite being a continuum capable app and a universal one – is currently published by Microsoft. While Facebook helps in the creation of the app (likely limited to branding, designs and API access), it lacks some more modern Facebook features like reactions and an in-app browser.
We understand that Facebook intends to release their Windows 10 Mobile apps in summer with reactions, inline comments and more, as well as update Instagram to the new design soon (an unconfirmed report indicate it may be as soon as this week).
While we showed you early images of Facebook and Messenger for Windows 10 Mobile, in the light of the evolution of the Windows 10 apps, it is clear that these apps would be better designed when they eventually come out, and may even resemble built from scratch universal Windows apps.
Of course, there's always going to be the argument that their apps would be better if they built them up from scratch. Looking at Twitter and Vine for Windows, we get a sense of two well designed Windows apps from another social media firm, and its easy to hope Facebook would capture that.
In the end, I don't think it matters how the app is built. I believe I stand with the average user when I say I don't care about the details. As long as the apps work and look good, there's little to be gained from complaining about the hows and wherefores.