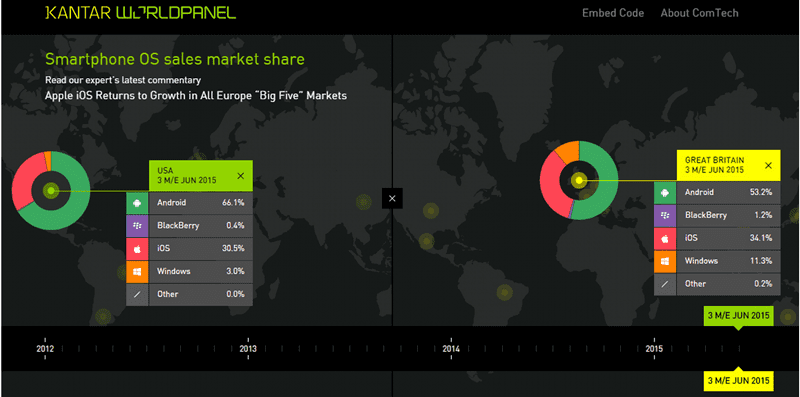 The latest Kantar numbers for the 3 months ending June 2015 have been posted (ie Q2 2015).
They show Windows Phone has made further market share gains in UK, now 11.3% of the market there, but suffered a setback in France, where Windows phone has been doing well recently, dropping below 10% again to 8.7%. In Italy however things are on the up, with Windows Phone once again hitting 14.2% share. In Germany Windows Phone also made good gains, now up to 10.5%.
Spain has never been Windows Phone's strong point, and the OS dropped there once again to only 3% market share, though up slightly from the May numbers of 2.4%.
In USA Windows Phone was down to 3%, though oddly this was up YoY. China is similarly dire, with 0.5% market share, down from 1.2% last year and 1% last month. In Australia Windows Phone was up YoY and sequentially to 6.4%, while it dropped even further to 0.0% from 0.1% in Japan last month.
Kantar appears to have made a mistake with their EU5 numbers, which are not consistent with earlier reports.
Update: Kantar has updated their report with the correct EU5 numbers, which read as pretty good news for the OS, which is now once again at the 10% mark.
Last month's numbers can be seen here.