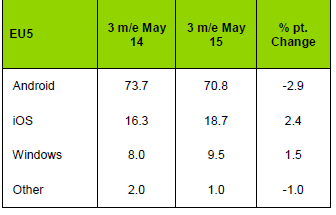 Windows Phone has continued is winning streaking in Europe, being up 1.5% YoY there, and joining iOS in taking market share from Android and Other.
Looking at the individual markets, Windows Phone grew 1.6% in Germany to 7.5% of the market, 0.8% in UK to an even 10%, 0.9% to 11.1% in France, a massive 4.1% in Italy to 13.9% and only suffered market share loss in Spain, dropping 3% to 2.4%. The numbers likely reflect some success for Microsoft's newly released Lumia 640 and 640 XL series and a general shrinking of the high end market away from the holiday season.
In USA windows phone held 3.5% share, up slightly, and in China 1.1%, down slight, while in Australia it is down to 6.3% while having 0.1% market share in Japan.
See the full numbers below and last month's numbers here.