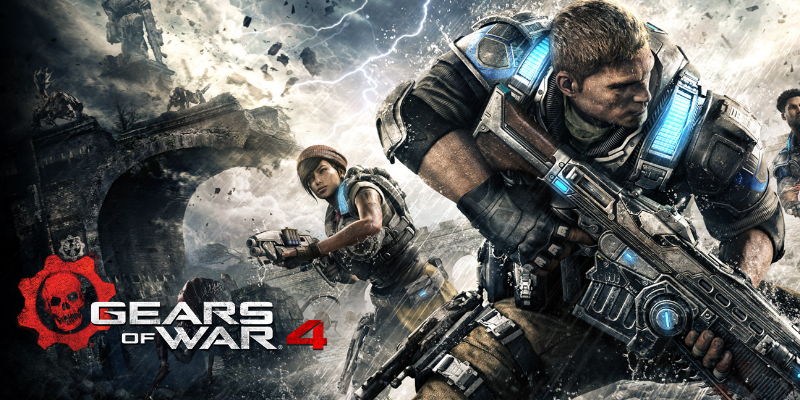 These last few weeks have been a great time to own an Xbox One. There's been big titles coming out constantly, and there range from universally acclaimed hits like Forza Horizon 3 to the AA title ReCore. Now the biggest of the bunch is here: Microsoft and The Coalition's revival of Gears of War. It's been three years since the franchise last brought out its special brand of bloody action in Gears of War: Judgment, and now a new team's taken up the torch. Epic Games sold the Gears of War license to Microsoft a few years ago, and Microsoft's own internal studio The Coalition has been working hard on Gears 4 ever since.
What's it about?
Gears of War 4 is set over 25 years after the end of Gears of War 3, and it follows Marcus Fenix's son, J.D. The Coalition of Ordered Governments – or COG, for short – continues to get more and more oppressive, and now J.D's fighting back. Gameplay wise, anyone who's familiar with the franchise should know what's happening here. It's not a revolutionary departure from anything in the series, and keeps up the bloody third person shooter action the Gears games are known for.
Do I need to play the other games in the series?
To put it simply: you probably should, and it isn't hard to. The entire franchise can be played on your Xbox One, and the original game's been remastered for the Xbox One (and Windows 10 PCs) with Gears of War Ultimate Edition, which originally came out last year. If you're a PC gamer, you're somewhat out of luck. There was a Vista-era port of the original game, a Windows 10 version of the Ultimate Edition, and now Gears 4. If you want to play Gears 2, 3, or Judgment, you have three options: Buy an Xbox 360, an Xbox One, or wait and hope for more ports.
It's also worth noting that if you buy the Xbox One version of the game, you'll get a code for the other four games in the franchise, so you'll be able to experience the whole series even easier.
What makes Gears of War 4's Ultimate Edition worth buying?
The first of the specials has run out, which was the ability to play the game for four days before everybody else. It also includes the Brothers To The End DLC pack, which includes bonus playable characters for multiplayer, like Marcus and Anya. The season pass is also included, which gives you two DLC maps every month for a solid year, and the ability to beta test new maps and features for the game.
Is this part of Xbox Play Anywhere?
Yep. This means that all digital purchases count towards both the Xbox One and Windows 10 versions of the game. There is no physical release for the Windows 10 version, and the Xbox One disc for the game will not work on your Windows 10 PC.
Can I see some gameplay?
Sure thing. An official play-through of the game's prologue chapter was posted to the official Xbox YouTube channel, and it can be found below.
If you'd like to buy Gears of War 4 digitally from the Windows Store, you can find it here. You can buy it from Xbox Games Store using the below links,
If you'd like to buy a physical copy from Amazon for the Xbox One, you can find it here.
Are you going to play Gears of War 4 today, or have you already been playing the Ultimate Edition?