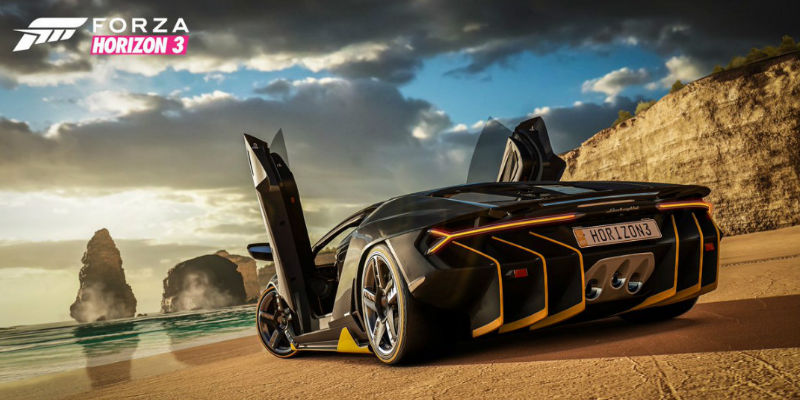 Following its announcement back at E3 this year, Forza Horizon 3 worked its way up the charts to become one of the most highly anticipated games for the Xbox One in ages. News about the game's been moving along almost as fast as you can go in it, and there's a lot to go over. To start at the beginning, though, Horizon 3 is an open world racing game set in Australia. It's part of the Forza Horizon sub-series, which is fairly different from the rest of the Forza franchise. Unlike traditional Forza Motorsport entries, the Horizon games focus less on detailed simulation and more on having fun.
So, what's it about?
Like all of the other Horizon games, Forza Horizon 3 is set during one of the titular Horizon festivals. This time the festival is being held in Australia, and you'll compete in plenty of events during it. Usually you'll have one thing on your mind during these: winning. When you're not winning, however, you might be exploring Australia on the open road, and the map is significantly bigger than before. According to Microsoft, the game is over twice the size of Forza Horizon 2, and that's an impressive feat.
How many cars are there?
Over three hundred and fifty cars will be available at first, but more will be added after launch. These range from high class cars like the 2015 Ford Falcon XR8 to the Warthog from Halo, and it'll take you a while to spend some time driving all of them. If you've ever played either Halo 5 or the Master Chief Collection, you'll receive a code to get the Warthog via a message on Xbox Live. These are going out in waves, and while the majority of people seem to have already received theirs over the past few weeks, there's still a few people without them. You'll just need to wait a little bit longer for the code if you don't have it already, and you will still get it.
Some people already have the game, how is that?
If you bought the Ultimate Edition of the game, it became possible to play it four days ago. The Ultimate Edition costs $100, and also comes with some extra content.
I heard the game supports HDR, but what is that?
High Dynamic Range – or HDR for short – allows for a higher and more dynamic range of colors, like the name implies. To put it simply: brights can be brighter, darks can be darker, and colors in general will seem much richer. It allows for images to look a bit closer to what you'd see in reality, but there's a cost that comes with it. For starters, the original Xbox One model doesn't support HDR, so you'll need an Xbox One S for that. Combine that with the cost of a 4K TV that actually supports HDR, and you've got quite the bill if you want to experience it. If you happen to have both of those things already, though, Forza Horizon 3 is the first game on the Xbox One to support HDR, and it's definitely worth trying it out.
What's Xbox Play Anywhere?
Xbox Play Anywhere is a recent program from Microsoft which allows digital purchases of some games to include both the Xbox One and Windows 10 versions. Forza Horizon 3 is the second game in the program, with ReCore being the first. The way it works is incredibly simple: if you buy the game in the Windows Store (or Xbox Store), you'll have it for both, and that's that. This is not available for physical copies of the game – in fact, the game is only physically available for the Xbox One anyways.
Anything else I should know?
You'll be able to play your own music through one of the game's radio stations, which works via Groove Music. It's as easy as uploading your songs to OneDrive, putting them into a playlist, and then tuning in to the Groove Radio station in the game.
Where can I buy it?
If you'd like to purchase Forza Horizon 3, you can find it on the Windows Store here. If you'd like to buy a physical copy of the game, it can be found on Amazon here.
Are you looking forward to playing Forza Horizon 3, or have you been playing the Ultimate Edition for a few days now? Let us know in the comments below!