Is Copilot the best AI companion out there? Help us find out by answering a couple of quick questions!
As AI has found its way into most aspects of our everyday lives, creating unique landing pages with the help of AI is no different. But, we know that choosing the best free AI art generator for landing pages can be daunting.
Both individuals and companies are taking advantage of AI's powers in various fields, including AI art creation, editing photography, and even creating unique architectural works.
These are, of course, only a few of the applications of AI-powered apps, and tasks like generating images for icons, designing t-shirts, creating fantastic book covers, and even character-building for games are not excluded from the list. We've had brilliant results by employing these tools, so we think you might as well.
Before diving into the software options for landing pages we researched, we need to clarify the meaning of a few terms.
What is a landing page, and how does it work?
A landing page is a web page that serves as an entry point for a website or a section of a website, allowing users to get an idea about what your site has to offer. They are designed to capture users' attention, whether they reach you via email, ad, or other digital locations.
Landing pages are built with a specific goal, including generating leads, increasing sales, or promoting a particular product or service. Their structure must be clear, filled with eye-catching visuals, have a good headline, and present the user with all the information required to decide about your website's offers and services.
What is a landing page generator?
Creating landing pages can be very time-consuming and involves a lot of work, so having an excellent AI-generated landing page can help companies considerably streamline their creation process. AI landing page generators are wonderful tools that use the latest artificial intelligence technology to help you create fantastic landing pages based on your input.
This article will examine everything you need to know to choose the best AI landing page generator, including benefits, features, and pricing details.
Can AI generate a landing page?
Yes. AI can generate landing pages for your business using built-in natural language processing and machine learning. Depending on the software, you can write a prompt from which the AI starts building the landing page, and in other cases, you will need to answer specific questions before initiating the process.
The generation process takes seconds to minutes, depending on your input, clarity, and the app you're using.
Below is a list of the best AI art generators for landing pages, so check them out.
What are the best AI art generators for landing pages?
1. Leadpages – Efficient & High-Converting Landing Pages
Leadpages is a fantastic AI landing page creator that helps you turn visitors into leads and long-term customers by using natural language processing and machine learning to create the perfect landing pages for your brand, industry, and customized offer.
To start the creation process, choose one of more than 200 templates optimized for conversion, or start from scratch and manually bring your idea to reality.
Any landing page can be customized to the level of every detail, including images, videos, pop-ups, sticky bars, etc.
As with other options from this guide, the developers mention that their AI is trained on thousands of high-converting landing pages, so you can rest assured that your webpage will be up to par.
To round this excellent app up, it also includes a lead management feature that enables you to capture, nurture, and convert your leads. The Lead Magnet Delivery System option allows Leadpages to send automatic resources or incentives to your leads. At the same time, the Lead Notification feature alerts you as soon as someone signs up for your landing page.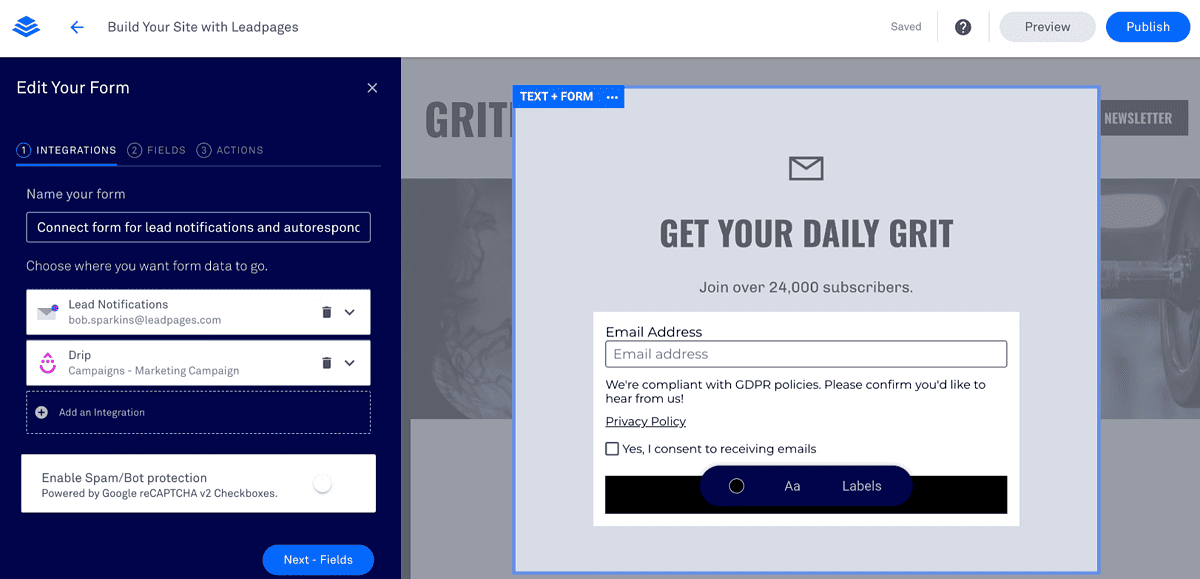 The integration with WordPress, Mailchimp, Zapier, HubSpot, and others ensures that you can easily port your company's information and use it as best as possible for converting leads.
Pros
Creates unique AI-powered landing pages for any business and offer
Includes a drag-and-drop feature for quickly adding any images, videos, etc.
Includes a lead management feature that simplifies the process of caring for and nurturing your leads
Integrates perfectly with WordPress, Zapier, Hubspot, etc.
Cons
It doesn't include built-in CRM software but can be connected with other apps that do
No support for multilingual pages
It costs more than other software on this list but is worth every penny
2. Phonesites – Best Mobile User Landing Page Builder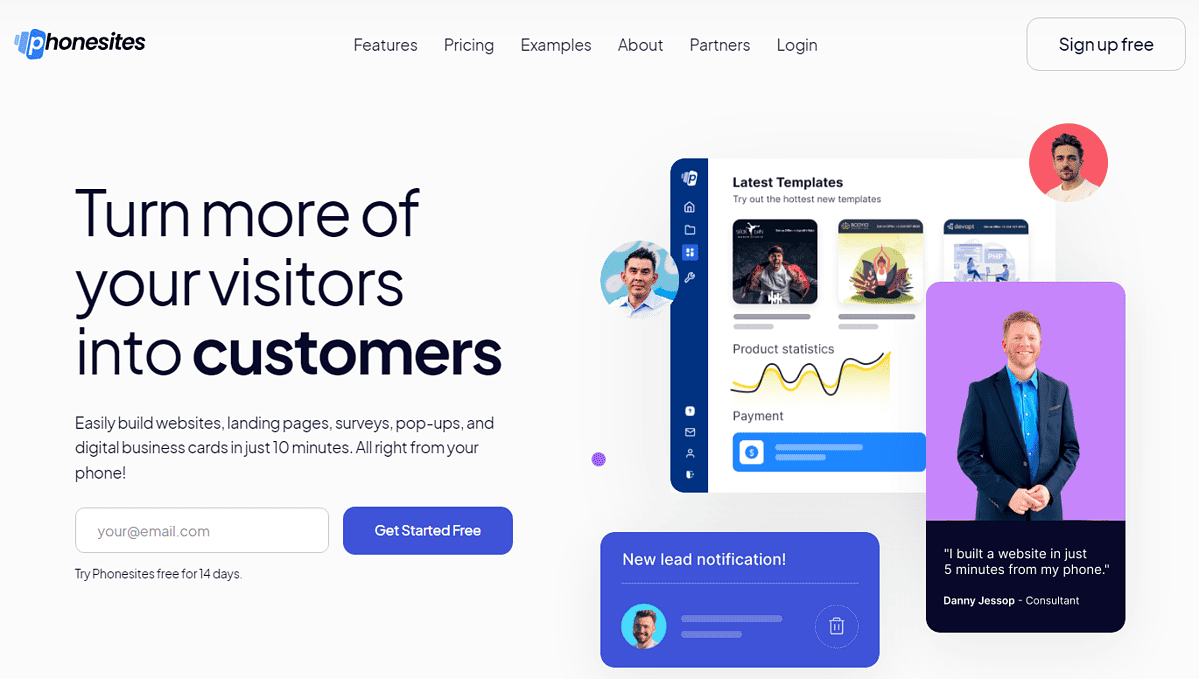 Phonesites is a powerful AI landing page builder that stands out from the crowd and focuses on mobile users. This software can help you create fantastic landing pages directly from your phone, making it an excellent portable tool for business owners across the globe.
This easy-to-use app ensures users can use its features and create unlimited landing pages faster. Every landing page created with this software is perfectly optimized for mobile usage, and the tool also allows you to nurture leads through follow-up emails and text.
The powerful AI working behind the scenes ensures that your sales copies are already covered and written for you, making this app the best way to create AI landing pages for mobile devices.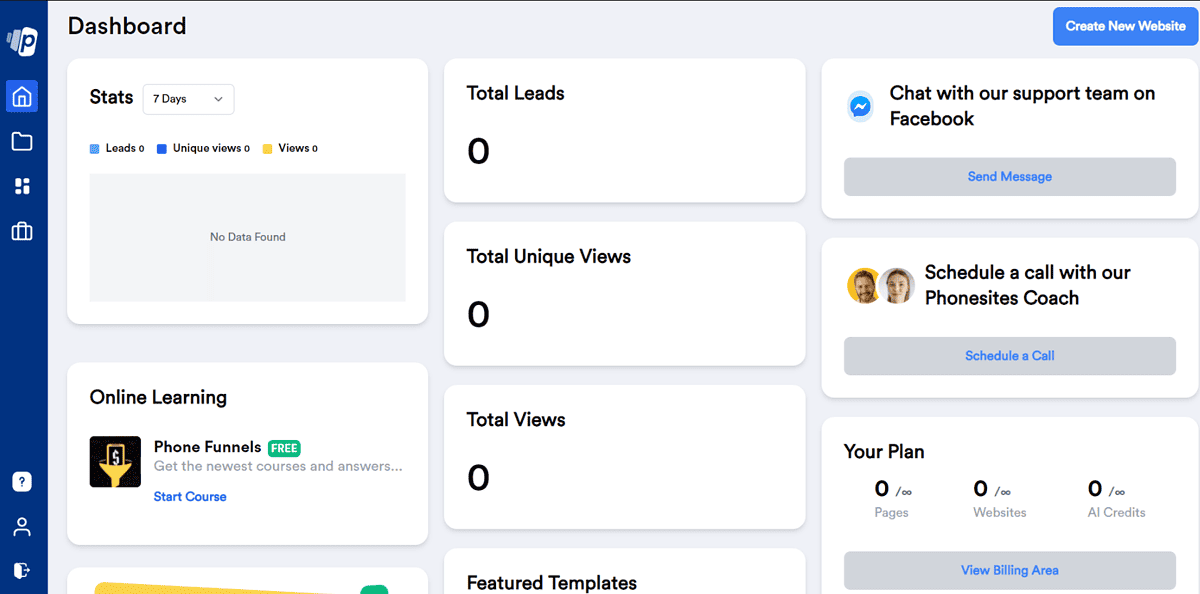 The software allows you to try it out for 14 days as a free trial, but to sign up, you will have to use your credit card details, which might be inconvenient for some users.
Overall, Phonesites offers users a mobile landing page generator that covers your sales copy. It is the perfect one-stop app for business people who travel a lot and want to be creative and efficient.
Pros
Mobile-friendly and easy-to-create landing pages without coding skills
Generates sales copy for your pages while also helping with marketing and follow-ups
A large variety of templates for a variety of niches
Cons
Even though it is user-friendly, some people have had issues understanding what to do in some cases
3. Unbounce – Dynamic & Customizable Page Builder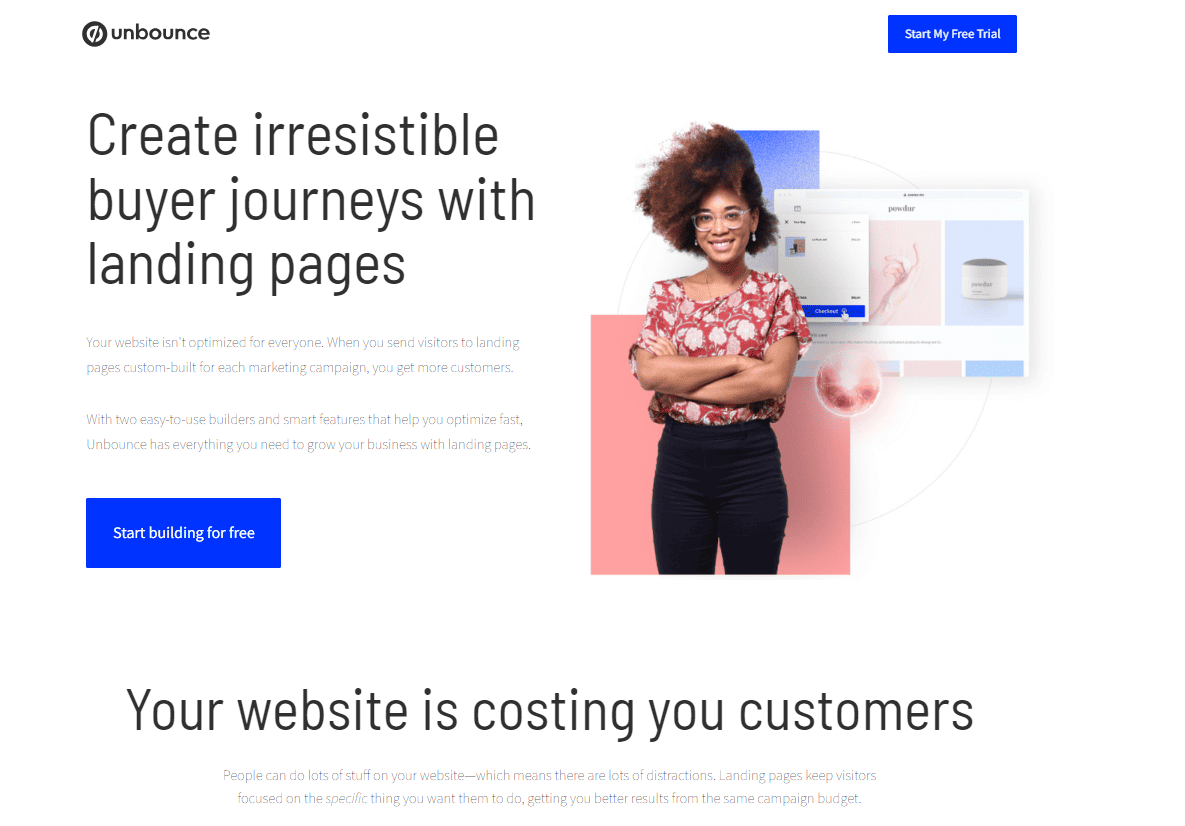 Unbounce is one of the most popular AI landing page builders on the market, and its modus operandi is to analyze millions of landing pages and offer you a simplified, data-driven solution and recommendations based on the information it gathered.
These recommendations are a critical factor in optimizing your landing page for conversions, and the useful Smart Traffic feature can help you by sending your visitors to the best-performing variant of the respective landing page.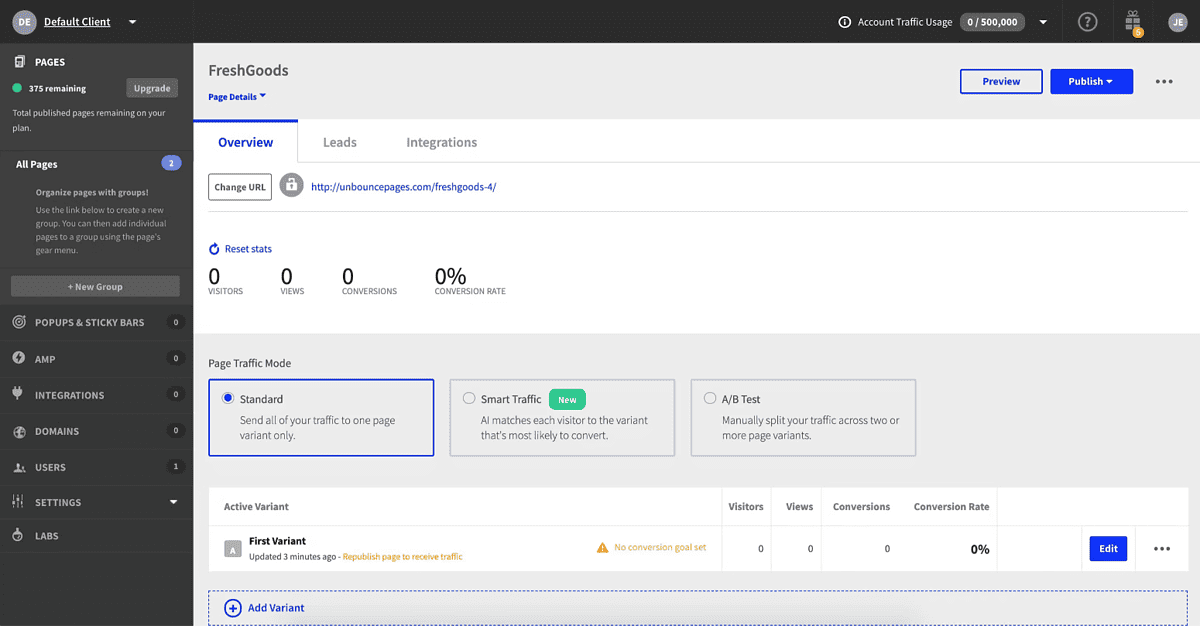 Unlike the other software options presented in this list, Unbounce has a drag-and-drop editor that enables you to create fantastic landing pages without requiring any coding skills whatsoever.
To start the process quickly, we recommend choosing a template from the database and customizing it to suit your company's needs perfectly.
The wide range of customization options offers users an excellent, intuitive way to edit their landing pages. You can edit your landing page by modifying the images, videos, forms, buttons, pop-ups, countdown timers, and other elements.
Pros
AI-powered data-driven insights and recommendations
Includes a drag-and-drop editor for easy customization of your landing pages
Includes a Smart Traffic feature that optimizes the visitor's path to your best-performing landing page
Integrates perfectly with Mailchimp, WordPress, HubSpot, SalesForce, etc.
Cons
The premium is relatively expensive when compared to other AI landing page builders
It doesn't include support for multilingual landing pages
It doesn't have a built-in CRM or email marketing feature
>> Get Unbounce
4. Landingi – A large number of usable templates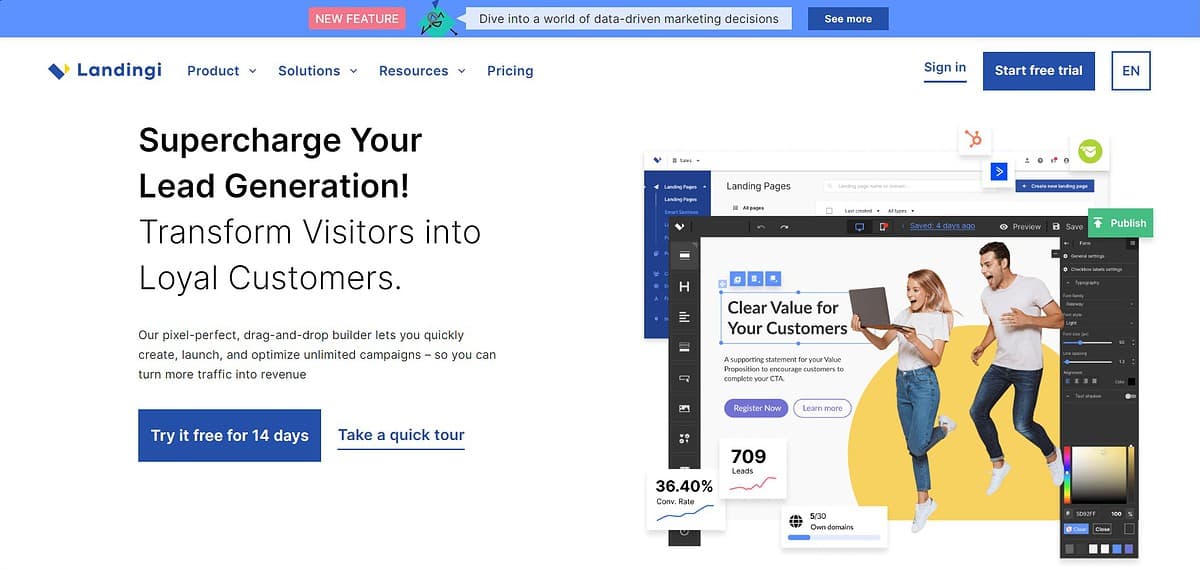 Landingi is a very easy-to-use landing page builder that comes with a lot of built-in templates ready to edit. This platform also offers video tutorials that will show you how to build a landing page, either from scratch or by editing the mentioned templates.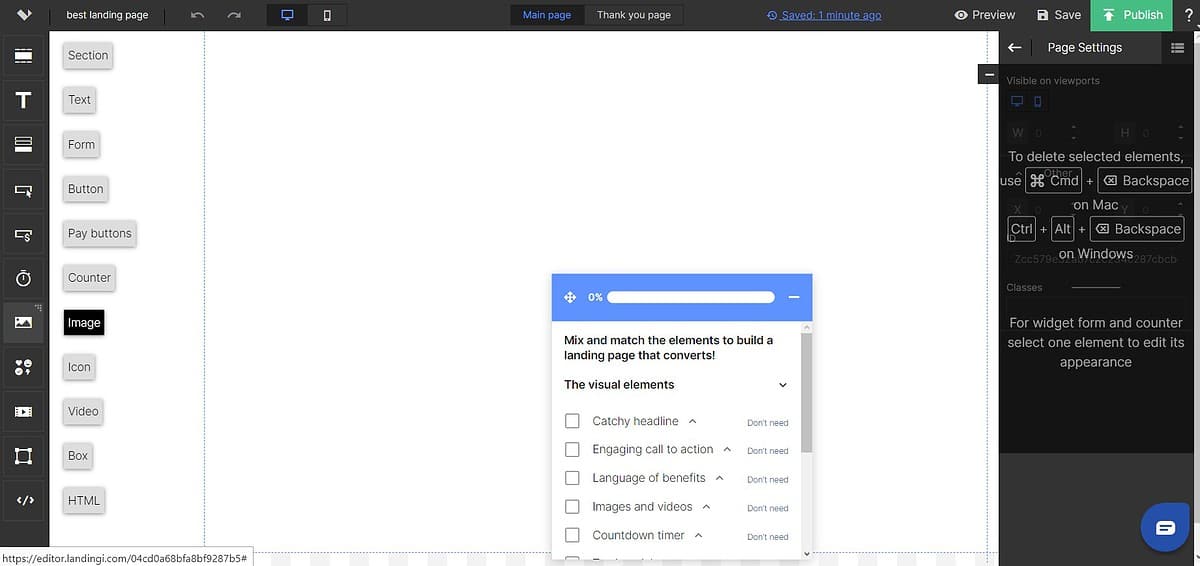 All the elements from Landingi are very easy to access, and you can use most of them just by drag and drop.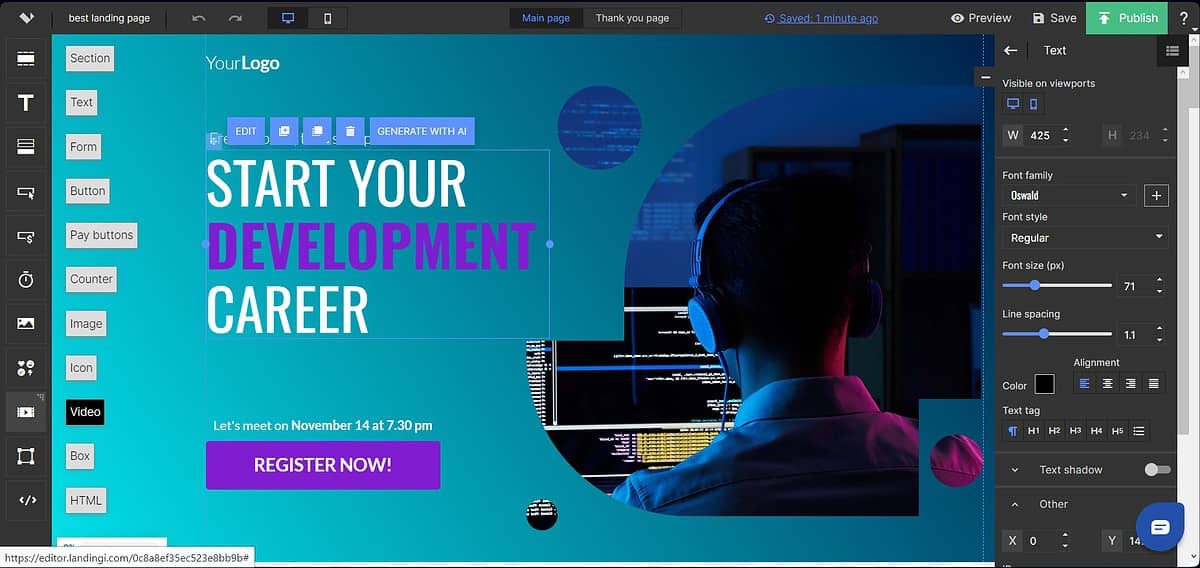 Landingi allows you to use many AI tools to customize the landing page so it best suits your needs. You can use AI tools for text generation, SEO optimization, and image background remover.
AI-powered tools are also employed in the PageInsider, which will offer you insight into how to optimize your page before publishing.
Pros:
Simple to use, making it suitable for all users
Users can easily edit all aspects of the created landing page
A very large number of available integration
Cons:
Complex pricing plans
Very basic built-in analytics
5. Simplified – Powerful AI Landing Page Copy Writer
Simplified is a powerful AI-driven page copy generator that can help you automatically generate a wide range of catchy and convincing headlines, subheadings, and body text for your landing pages.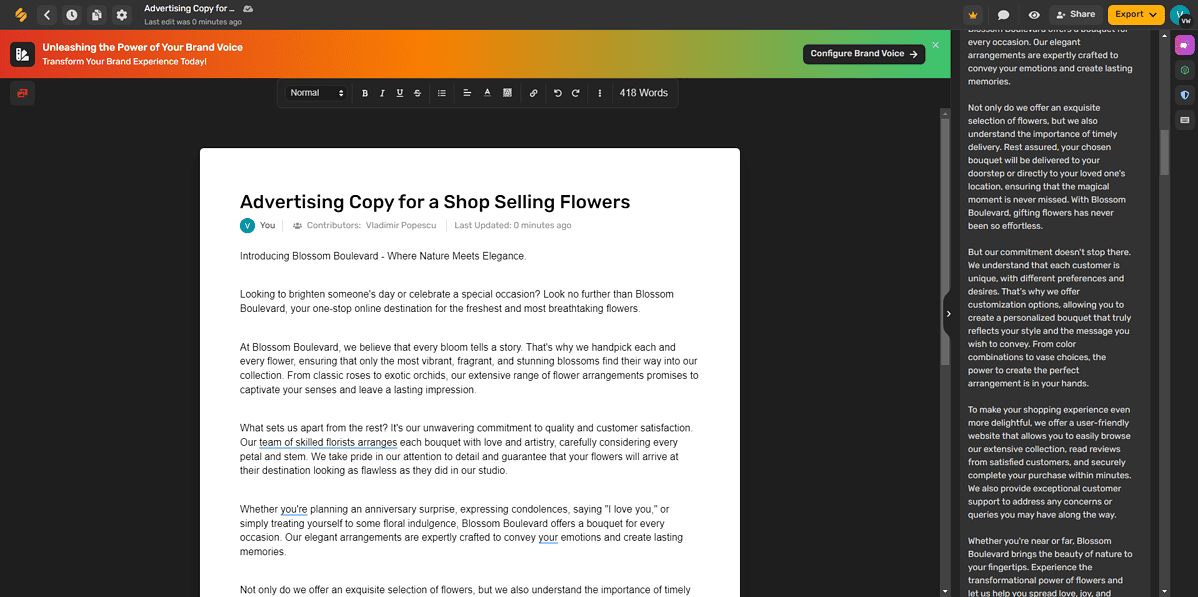 You can easily describe your product or service name the target audience, and the entire copy for your landing page will be generated in seconds.
You can customize the results when conveying your ideas by choosing a different tone, style, and emotions.
These customization options ensure you can choose the perfect creativity level for the AI to use while creating your landing page copy, so the possibilities are almost endless.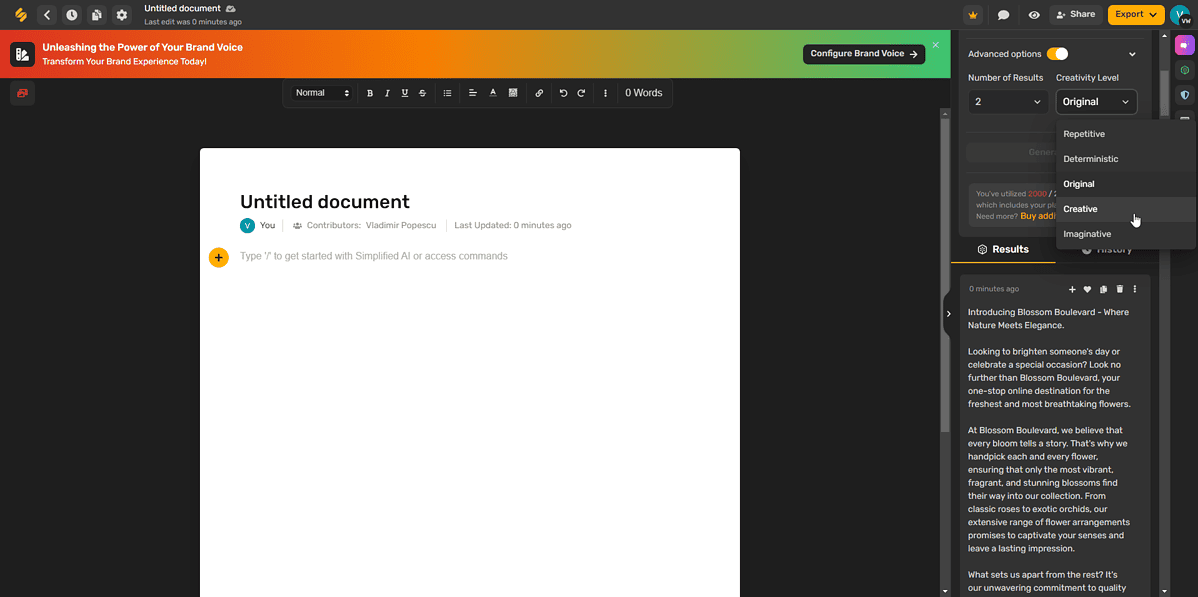 The developers of this app claim that the AI that powers this entire app is trained on thousands of landing pages with excellent results.
Pros:
A large range of tools
Quality designs and templates
Very good social media scheduling
Cons:
Doesn't have an SVG export
Writer not as good as Chat GPT
6. SiteKick.ai – AI-Powered & User-Friendly Page Design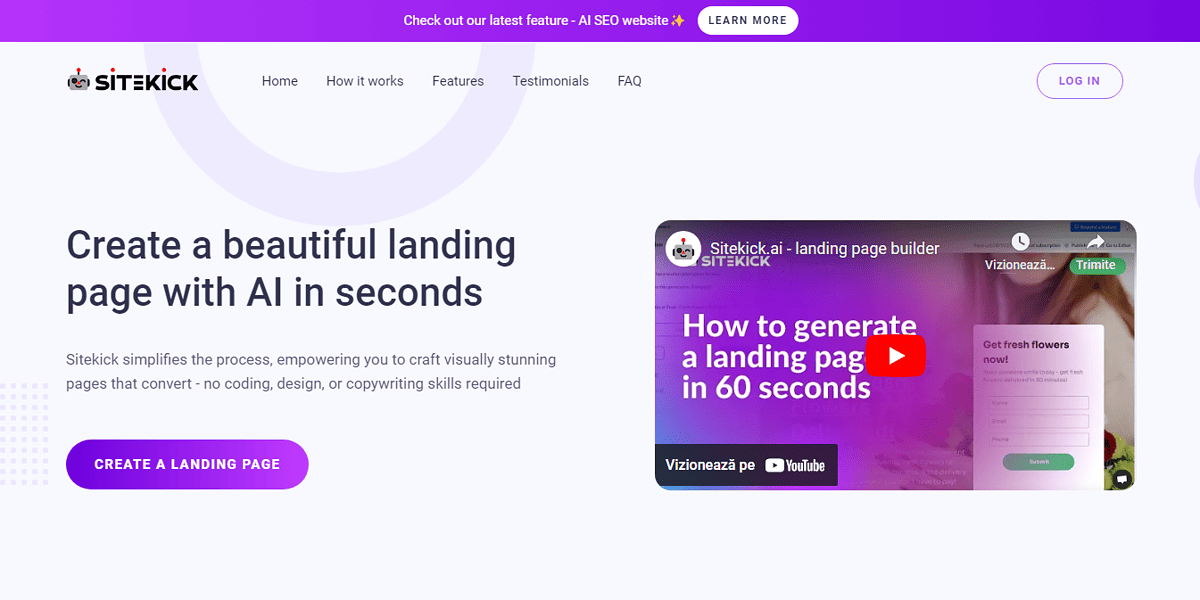 SiteKick is another good AI-powered landing page builder app, and it uses both natural language processing and machine learning to create unique pages that perfectly match your business.
To start using it, all you have to do is set up your business name and add the domain name, industry, and description of the offer for your service/product.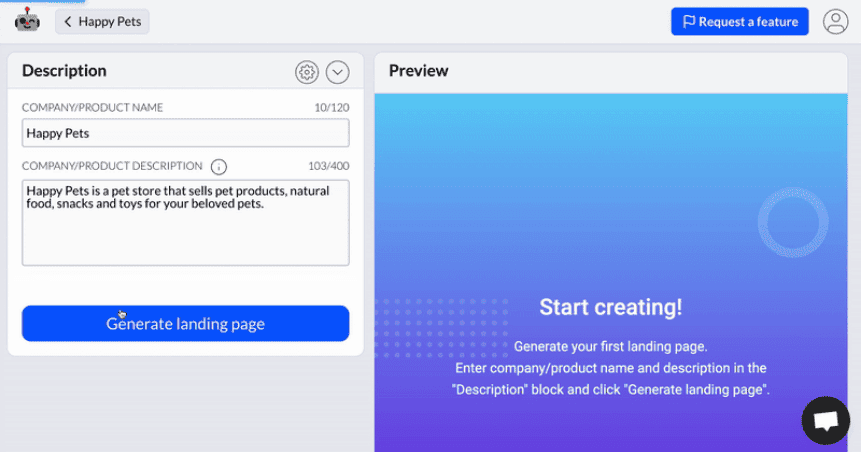 Using this information, SiteKick will generate a landing page, taking just a few seconds of your time.
After the landing page base has been generated, you can customize it any way you want, like choosing a different template, modifying colors, images, videos, etc.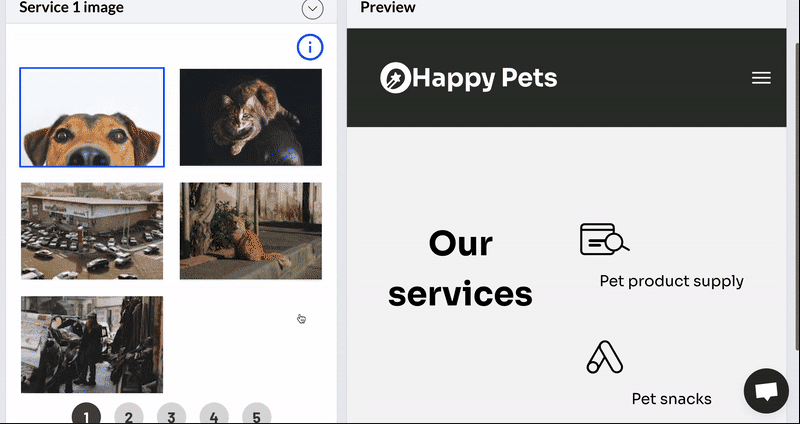 The developers of Sitekick mention that their app is trained on more than 1000 landing pages with high conversion rates and also takes into account the newest conversion insights and the best practices of this domain.
Pros
User-friendly interface
It produces landing pages in a few seconds after input
Seamlessly integrates with Mailchimp, Stripe, Google Analytics, Zapier, etc.
Cons
It doesn't support landing pages with multilingual features
It does not include a drag-and-drop editor
It doesn't have an A/B testing feature
---
AI landing page generators can be excellent tools to have at your disposal, covering all aspects of this process and thus enabling you to focus on other details. With these tools, you can save time, effort, and money, requiring you only to describe what you need and letting the AI take over after.
That being said, it is worth mentioning that AI landing page generators are not a substitute for human judgment and creativity, as the results can sometimes be robotic if no human edits the results.
Testing your company's landing pages regularly is also very important to consider, as this will ensure that they meet your expectations and objectives in the long term.