There's nothing more fun than harking back to the early days of video games with pixel art. However, despite its simplistic style, it's not easy to create pixel avatars or other images from scratch.
The good news is AI can now generate dot art or 8-bit art from text prompts and existing images. What's more, it only takes a few minutes.
Looking for the best AI pixel art generator? After testing the leading tools, here are 5 that deliver stunning results.
1. NightCafe – Overall best AI pixel art generator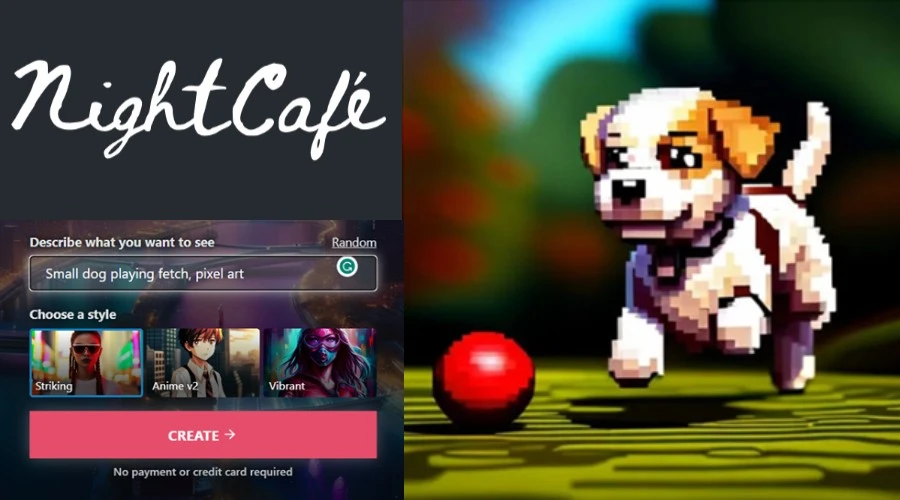 The AI art studio from NightCafe offers several fun ways to create pixel art. The first method is via text prompting where you can describe what you want the image to be. It's surprisingly good from the beginning.
The following was generated just by typing, "small dog playing fetch, pixel art".
There are several pre-set styles to choose from, some of which lend themselves to pixel art. For example, striking or vibrant works well. However, you must add the descriptor 'pixel art' in the prompt to get the precise style.
NightCafe uses Stable Diffusion as its base model, so you can get very detailed with the prompt to fine-tune the image.
Secondly, you can use image-to-image, which lets you use an existing image and convert it to pixel art with AI. This is perfect for avatars, profile pictures, or turning yourself into a character asset.
NightCafe gives users 5 free credits a day or you can sign up for a premium plan to generate more and unlock advanced features.
2. Fotor – Best AI pixel art generator with mobile apps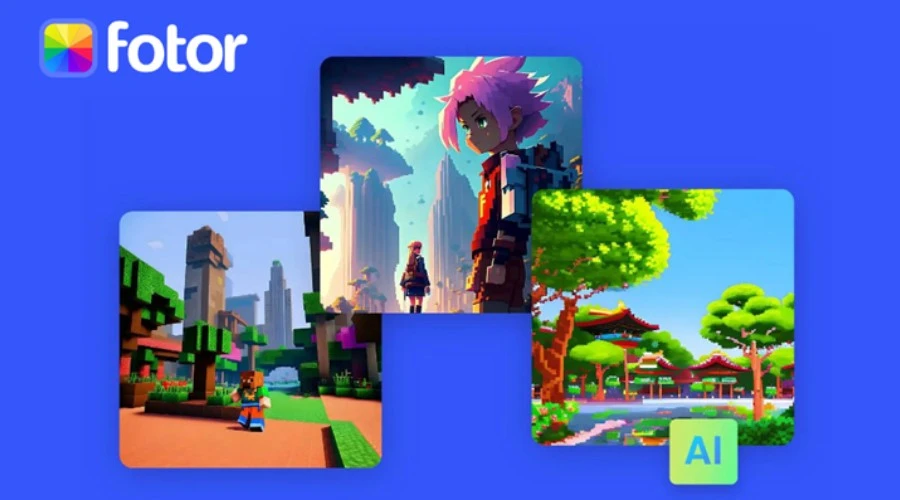 The suite of photo editing tools from Fotor lets you convert existing images to pixel art the traditional way or generate new art from scratch using AI text prompts.
The first is ideal for pixelating photos of yourself or photos you like, while the second is good for brand-new ideas. Why not combine both to generate something totally unique?
For prompting, Fotor recommends the term 'pixel art' or specific pixel counts like 8, 16, and 32-bit. You can also apply additional styles by selecting the presets in the panel on the left. The only tip is to stay cartoony and avoid photorealism, which is not the style of pixel art.
The editor gives you full control over the aspect ratio, and you can easily regenerate or add to your prompts until you get exactly what you want.
All new users get enough free credits to create a couple of images, and then you can pay for credits or a plan to use it long-term. Fotor gets the thumbs up for offering a mobile app alongside its web-based generator.
3. Adobe Firefly – Best desktop AI pixel art generator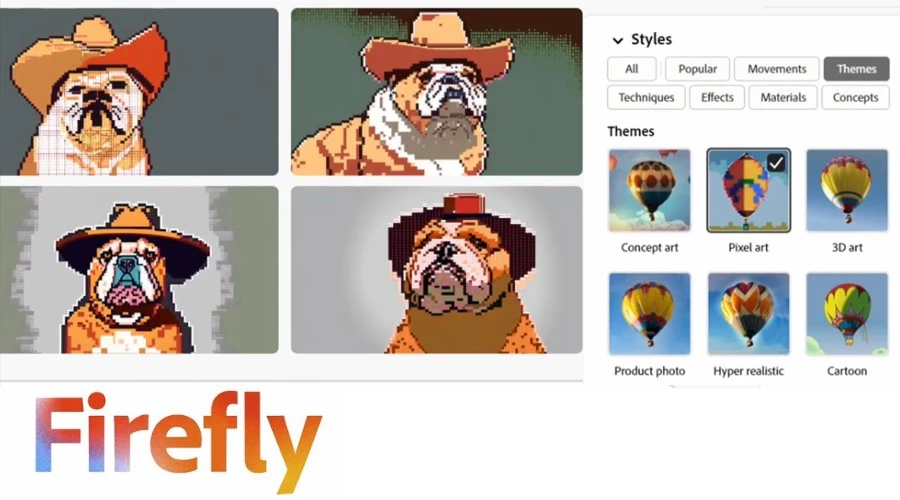 Adobe's new foray into generative AI is perfect for fans of pixel art. Firefly creates stunning results from basic prompts and has a preset pixel art filter right there in the toolbar.
Simply enter your description in the box at the bottom and it will create 4 initial images. The settings on the right are quickly applied to all images and you can revamp your prompt at any time too.
Just remember to keep 'art' checked for content type and you'll always get good results with the pixel art style. You can also choose a relevant aspect ratio at the top.
Firefly also lets you use existing images as part of its 'generative fill' feature. This is mostly intended to complete or add to your own art, but it can also be used to create pixel art from photos and images you already have.
Although it is still in its Beta phase, the software is flawless and already has a buzzing community online.
4. PixelVibe – Best AI pixel art generato for game assets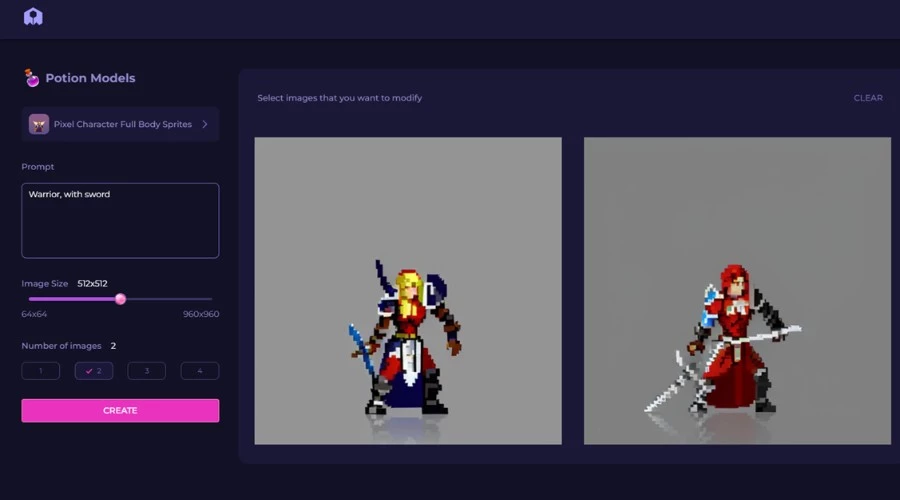 It's all in the name of newcomer PixelVibe – pixel art is its specialty. The AI is part of a fledgling game creation suite called Rosebud AI Gamemaker. This means character sprites, tiles, icons, and other game assets are among the presets.
Alternatively, you can craft your own descriptive prompt with the key elements separated by commas. How about a "warrior, with sword"?
PixelVibe supports up to 4 images at once and you can set the image size before generating it. Then you can alter the pixel size, remove the background, or re-vibe to redo the process.
Currently, it only supports text-to-image, so you cannot necessarily create your own likeness, but those features are likely to come later.
Because it's in its Beta stage, users can get started for free. It takes a bit of time to process, but the end results look great!
Serious developers can jump in and request API access for more options, including AI training on your custom images.
5. MidJourney – Best AI pixel art generators for AI enthusiasts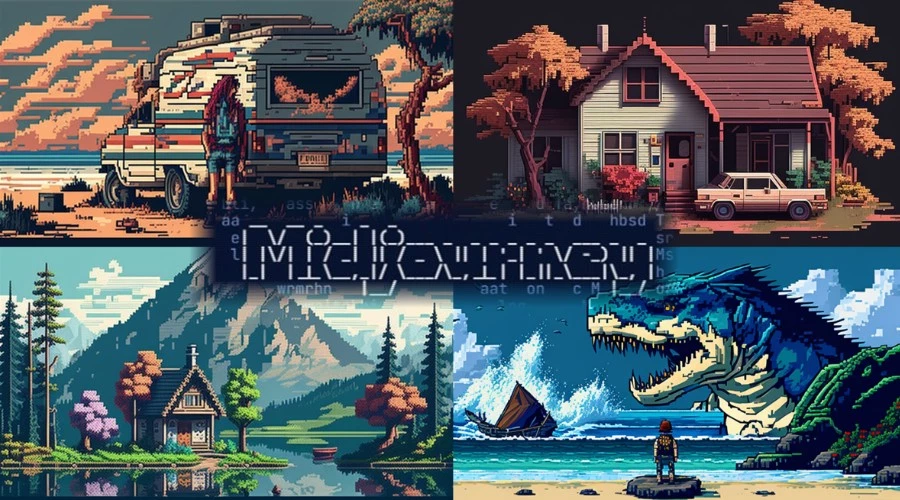 The power of Midjourney is all in its prompts. Rather than boxing you into a specific style, it learns from what you and other users want. This means it can be more difficult to master but also has amazing results when you do.
Fortunately, pixel art is a well-trodden path and all you need to do to get started is use terms like pixel art, pixelscape, or even old console terms like SNES graphics.
Style is one thing, but if you want some authenticity, you can also limit the color palette with phrases like Atari palette or GameBoy palette.
To get even more specific, adding 8-bit or 16-bit to the end really cements the prompt.
Of course, art is art. If you are creating an avatar or poster, get as creative as you want. However, game developers or those working within a fixed medium are likely to get more success using Midjourney as the starting point.
Conclusion
Whether you want to pixelize yourself for a social media avatar or create an entirely unique piece of artwork, artificial intelligence has your back.
The best AI pixel art generator for you depends on your goals. PixelVibe holds promise for game developers, but NightCafe or Fotor is the quickest option for the average web user.
Go with Adobe Firefly if you prefer desktop, while AI enthusiasts may get more out of Midjourney.