Is Copilot the best AI companion out there? Help us find out by answering a couple of quick questions!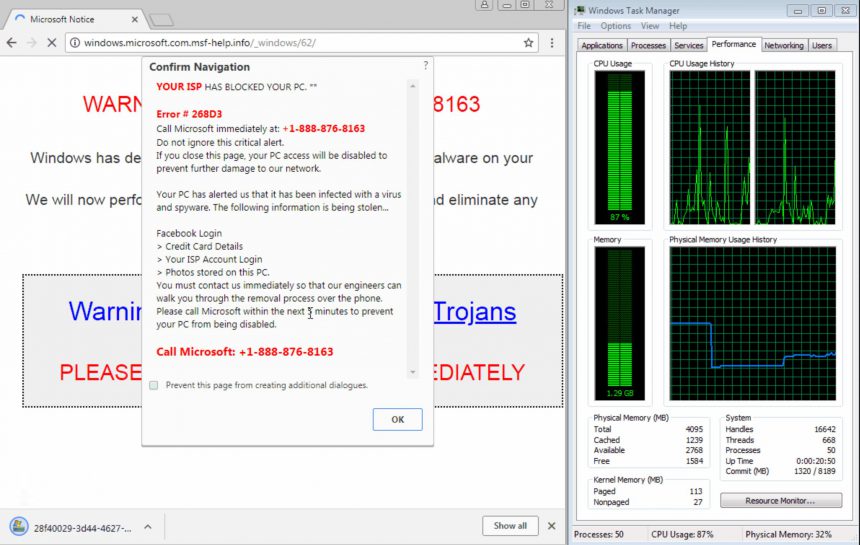 A new exploit has been discovered in Google Chrome that can potentially freeze Windows 10 devices completely. The new bug is being used in a tech support scam that freezes Windows 10 and then tells the user that their device is infected by a virus.
The newly discovered bug uses Javascript code to create a loop and which makes it impossible to close the tab or the browser. The pop-up also claims to from the official Microsoft support website and claims that the computer is infected with a virus, which could compromise your passwords, browser history, credit card information and other data. Since it's a loop, every time you try to close it, it will open again almost instantly and will push your resource usage to 100% which will eventually freeze the computer.
While this looks like a legit issue, it's just a scam and you can fix your computer easily by following the steps below.
Open Task Manager from the Taskbar
Go to the Processes tab
Click on Google Chrome (or GoogleChrome.exe)
Click End Task button at the bottom right corner
Also, make sure you have not set Google Chrome to restore back the old tabs as this will open the website again. A good way to avoid tech support scams it to verify the information before paying anyone money to fix your device. This is not the first time, a tech support scam has been identified that targetted Google Chrome. Earlier this year, we reported how a Download Bomb exploit has targetted major web browsers and only Microsoft Edge was imune to the attack. A good thumb of rule to prevent from getting scammed is to remember that companies don't usually ask users to pay money unless they have thoroughly checked the device and identified the problem.
Via: BGR