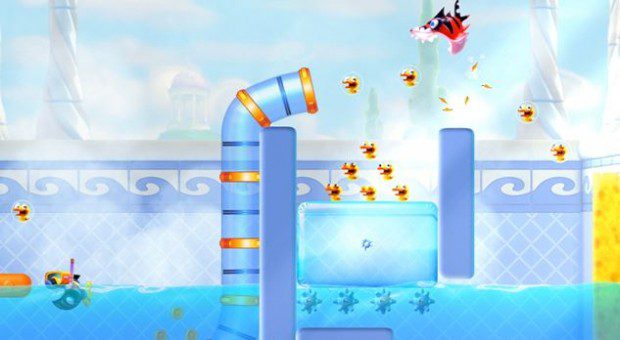 Along with The Dark Knight Rises release, Gameloft has released its famous physics puzzle game Shark Dash as its another Xbox title in Windows Phone Store.
Game Description:
Discover the new benchmark for physics puzzle games! Shark Dash is a highly addictive game that takes the physics puzzler to fun new heights with a unique cartoonish style starring funny little bath toys!

Sharkee and his merry band of toy sharks were living happily in the bathtub. That is, until a bunch of mischievous ducks came along to ruin their peaceful little world. These cheaply made rubber duckies are a little loopy from the chemicals they are made of, and now they're teasing the sharks, playing pranks like they owned the place! But when the ducks kidnap Sally, Sharkee's girlfriend, that's when Sharkee and his buds have had enough! Join a wild journey to tricky bathtubs around the world, save Sally and get rid of the dimwitted ducks!

BATH TIME HAS NEVER BEEN THIS FUN
• Amazingly accessible gameplay: Simply drag and release the shark's tail with your finger to launch him at the ducks!
• Dispose of the duckies, grab all the coins, and finish each level with the fewest jumps possible to earn 3 Stars! Use your Stars to unlock new levels!
• Not happy with your last shot? Undo it and try it again!

A WILD JOURNEY IN BATHTUBS ALL OVER THE WORLD
• Make your way through 96 levels with more to come in future updates!
• Visit 4 different environments, from ancient Rome to distant Japan!
• Complete tons of missions & unlock loads of achievements!
This game costs $0.99 with free trial available. Find it here from Windows Phone Store.