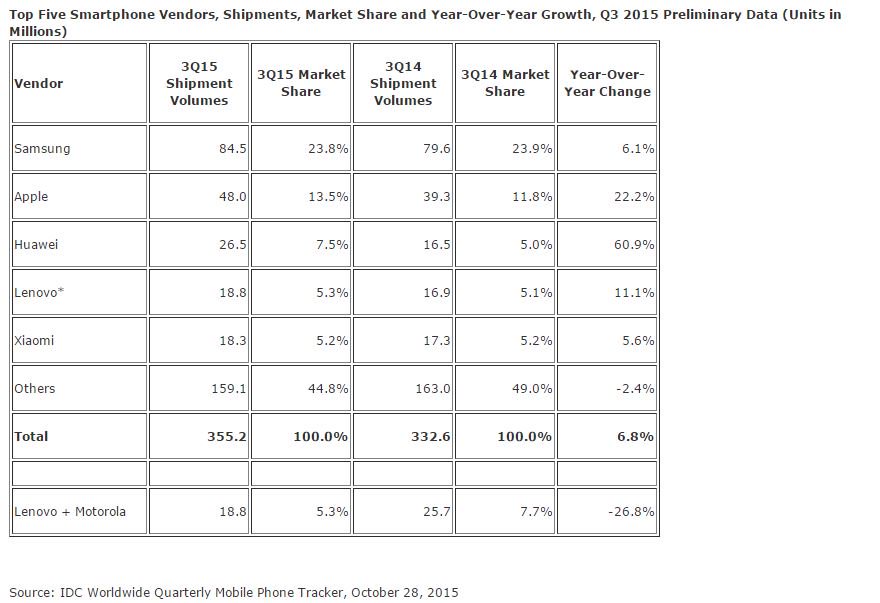 The worldwide smartphone market hit a new high in Q3 2015, likely driven by the release of the iPhone 6S.
According to the latest preliminary results from the International Data Corporation (IDC) Worldwide Quarterly Mobile Phone Tracker, vendors shipped a total of 355.2 million smartphones worldwide in the third quarter of 2015 (3Q15), up 6.8% from the 332.6 million units in 3Q14, marking the second highest quarter of shipments on record.
Windows Phones however did not join in this success, seeing their lowest shipments since 2012, only hitting 5.8 million, and not enough to deserve a mention by the IDC.
Microsoft has said this was in line with their expectations and strategy, but at only 1.6% market share it is clear Windows phones will now only succeed or fail as part of the Windows 10 universal app ecosystem, as such low numbers are not attractive enough to sustain an independent application market.
Microsoft hoped to attract other smartphone vendors to take over the volume of the market, and if this strategy does not succeed over the next 2 quarters I believe, already being well past the beginning of the end, we may be heading towards the end of the end of Windows phones.