Popular web destination Pornhub have posted some statistics regarding the technology used by their user base, which includes a significant percentage of Windows Phone users.
A surprisingly large percentage of their traffic (around 40%) is from mobile phones, and of that 2.4% is from mobile Internet Explorer.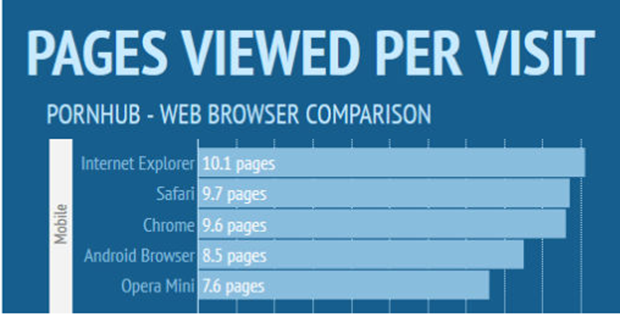 I wont go into all the gory details, but it seems Windows Phone has come on by leaps and bounds as a mobile browser, seemingly pretty capable of browsing such a heavy web page.
Mobile Internet Explorer users saw on average 10.1 pages per visit, and stayed on the site on average 8 min and 57 seconds.
This meant Windows Phone users spent on average 53 seconds per page, only beaten off by Chrome at 52 seconds per page, which should put paid to any suggestion IE mobile is slow to complete.
In testing IE11 on Windows Phone also offered a nifty feature, offering to download videos for later perusal, a feature I am sure is not being offered to other clients.
For much more detail read more at Gizmodo here.