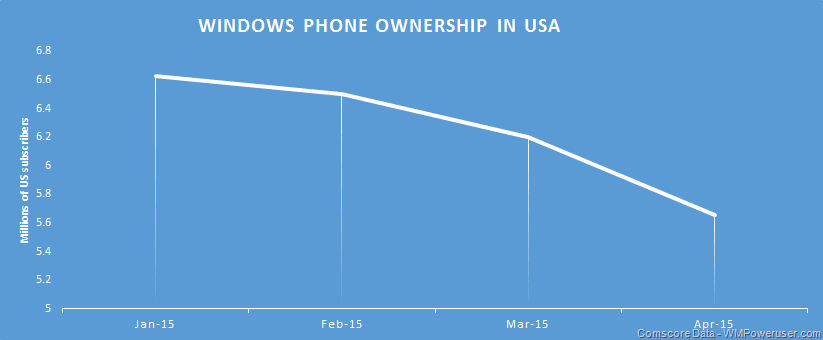 Things are starting to get desperate for Windows Phone in the USA, with the latest Comscore numbers showing a dramatic and accelerating drop in Windows Phone users in the USA.
The numbers show Windows Phone doing a Blackberry, dropping a massive 0.6% between the 3 months ending January 2015 and the 3 months ending April 2015, translating in a loss of 966,000 users over the period.
As shown in the graph above, the efflux of Windows Phone users has been consistent since the beginning of the year, and appears to be accelerating, with the biggest drop being from the March numbers of 6.2 million to the April numbers of 5.7 million.
The exact reasons are of course not known, but there are a number of possibilities, with the top of the list likely being Windows Phone users out of contract waiting for an end of the year flagship which never showed up switching to the iPhone 6, especially with Microsoft's clearly demonstrated commitment to providing their services on that and other platforms.
Last month's numbers can be seen here.
Do our readers think Windows 10 will win users back to Windows Phone in the USA? Let us know below.