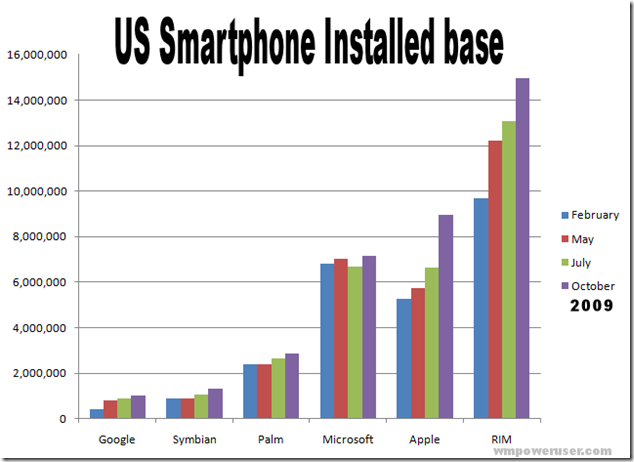 Comscore has released some numbers for the US smartphone market that makes for some interesting reading. The numbers, which reflect devices owned by users rather than market share, shows that Windows Mobile still has a pretty significant installed base of around 7 million smartphones in US, only moderately less than the 9 million iPhones in the US and that Apple only overtook Windows Mobile in the last 2 months, after the introduction of the iPhone 3GS and the cheaper iPhone 3G.
This is of course not reflected in the attitude of the blogosphere, who has relegated the OS to irrelevance ages ago.
Another indicated that mindshare seems to have little to do with market share is that Android installed base is only around 1 million, with Windows Mobile installed base 7 times larger. Even Symbian has a larger share in US than Android, and unexpectedly between July and October 2009 grew its installed base by 24%, compared to only 14% for Android. 
Also not reflected by the blogosphere is that the real king of the US smartphone world is RIM's Blackberry, with 41% of the installed base, and more that 50% growth over the last 8 months.  This indicated clearly that there are more than one route to market success, and ones that do not just rely on iTunes integration and 100 000 apps.
The Windows Mobile installed base itself saw 5% growth over the 8 months.  Obviously this is much less that the 42% the market itself grew, it is still highly significant that the current generation of devices in the US, such as the Touch Pro 2 continue to win converts.
Spare a thought for Palm, who's webOS sales and installed base were not large enough to break out.
See the raw data here.