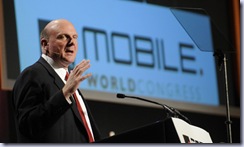 Microsoft has had an conference call earlier today, and Steve Ballmer spoke about Windows Mobile as one of its 7 big businesses.
According to Ballmer, Microsoft has been ramping up expenditure in the Windows Mobile segment over the last few years, and at $900 million per year, Windows Mobile is close to 4% of Microsoft's operating expenditure and has 2000 employees (RIM has 2900).  This still however leaves Windows Mobile as a "somewhat unprofitable" Microsoft business, and with Windows Mobile currently 3rd place in market share behind Symbian and RIM.
Ballmer re-affirmed his oft-repeated statement that Microsoft will not be making a Microsoft Phone, saying it was committed to the licensing model.  There was however a plan to extend revenue-generating opportunities to services.
One statement of note regarding Windows Live was that Microsoft was hamstrung in bundling Live services with the PC due to their Consent Decree from Anti-trust ruling against them nearly a decade ago, and one does wonder how this ruling continues to prevent obvious integration opportunities which would make Windows Mobile and the various services around it a much more powerful solution than it is now.
Regarding the operating system itself, Steve Ballmer mentioned the unveiling of Windows Mobile 6.5 last week, and also clearly stated Windows Mobile 7 will be coming next year.  He noted that he felt the continuing expansion of the smartphone segment into the whole phone segment should help Windows Mobile to continue growing despite the downturn in the economy, and that Windows Mobile is particularly well suited for low cost smartphones with many different from factors.
Regarding the future of Windows Mobile, Steve made it clear that he saw Windows and Windows Mobile as two sides of a single project, and that there is now and will be even more shared technologies.  Specifically he mentioned features like the browser, presentation surface (Silverlight?) and even, in the future, the kernel, and that the amount of shared technology will only increase over time.
Finally this picture makes sense. (thanks wreiad)