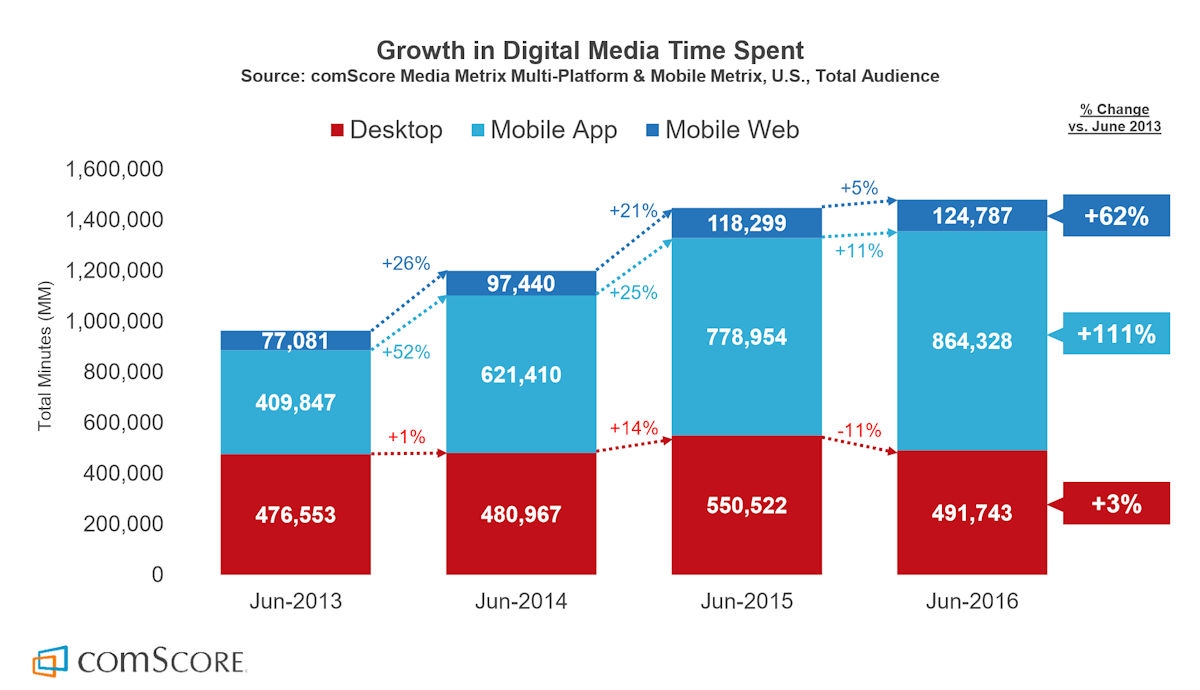 Windows is no longer Microsoft's biggest revenue earner (in fact its 4th behind gaming) which is just as well, as the OS is in serious trouble.
ComScore reports that when it comes to screen time, the humble PC is now only 33% of screen time spent, while mobile phones now consume 58% of our screen minutes.
The vast majority of the growth has also come from smartphones, with smartphone usage up 80% compared to 2013. Desktop usage is actually down 11% compared to 2015 (though up 3% compared to 2013).
"Mobile has grown so fast that it's now the leading digital platform," comScore says in a press release. "Total activity on smartphones and tablets, accounting for two-thirds of digital media time spent, and smartphone apps alone now capturing roughly half of digital media time."
"With desktop engagement finally in decline, it is now losing share to mobile at a rapid rate," comScore says. "The convenience of smartphones and tablet devices, and the innovation around mobile apps have completely shifted the digital media landscape in favor of mobile."
There is additional bad news for Microsoft's own mobile effort, Windows 10 Mobile.
"Smartphone apps have become the primary access vehicle to the internet, representing half of total digital media time spent," the report notes. Despite claims that the app revolution is over, ComScore found apps account for three out of every four minutes on mobile.
Comscore's data shows that only those over 65 years old spent the majority of their digital time on the desktop, but even this is changing, with smartphone use increasing 37% in the 55 to 54 year segment.
The massive increase in smartphone usage means apps which only target mobile, such as Snapchat and Instagram, are now perfectly viable, and the ascendancy of apps means new operating systems such as Windows 10 Mobile are increasingly locked out.
Microsoft is attempting to get Windows in competitive shape by moving their ecosystem to Windows 10, making Windows a more unified platform which offers a better developer story via the Windows Store and making Windows easier to manage via automatic updates, much like mobile devices.
It will however have great difficulty overcoming the main issue – Windows is not on the device users have in their hand, and given Microsoft's enterprise-focussed Windows 10 Mobile strategy this is unlikely to change.
Do our readers think Windows can recover or is the OS in a death spiral? Let us know below.