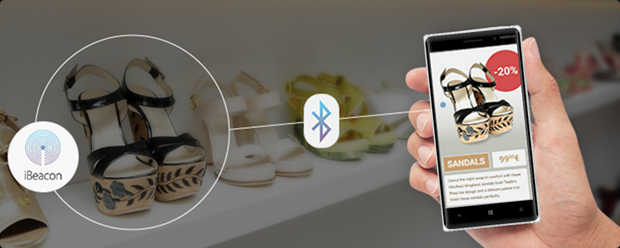 In some parts of the world Apple's iBeacon technology is quietly catching on, allowing stores to push ads and info to passers-by who have the right app installed.
It seems Microsoft is set to add that technology to Windows 10, which will of course be the basis of Windows 10 for phones also.
Justin Angel has found the most recent Alpha build 9860 of Windows 10 released a few days ago includes several new APIs.  One of them is for:
Windows. ApplicationModel. Background. BluetoothLEAdvertisementPublisherTrigger
and
Windows. ApplicationModel.Background. BluetoothLEAdvertisementWatcherTrigger
The APIs will let the device look for Bluetooth beacons and automatically launch the associated application.
The new Windows 10 update also includes a whole stack of phone-related APIs, such as showing  dialer, indicating that it will indeed be the same OS running on PCs, tablets and Phones.
The OS also has support for AllJoyn, an open source project that lets the compatible smart Internet of Things recognize each other and share resources and information across brands, networks, and operating systems. AllJoyn was initially developed by Qualcomm Innovation Center, and is currently backed by the AllSeen Alliance which includes Microsoft.
Build 9860 now also supports Barometers, Proximity Sensors and WIFI Direct.
Hopefully Windows 10 for phones will also retain what makes Windows so useful, such as support for Bluetooth HID devices and printers, to name but a few items.