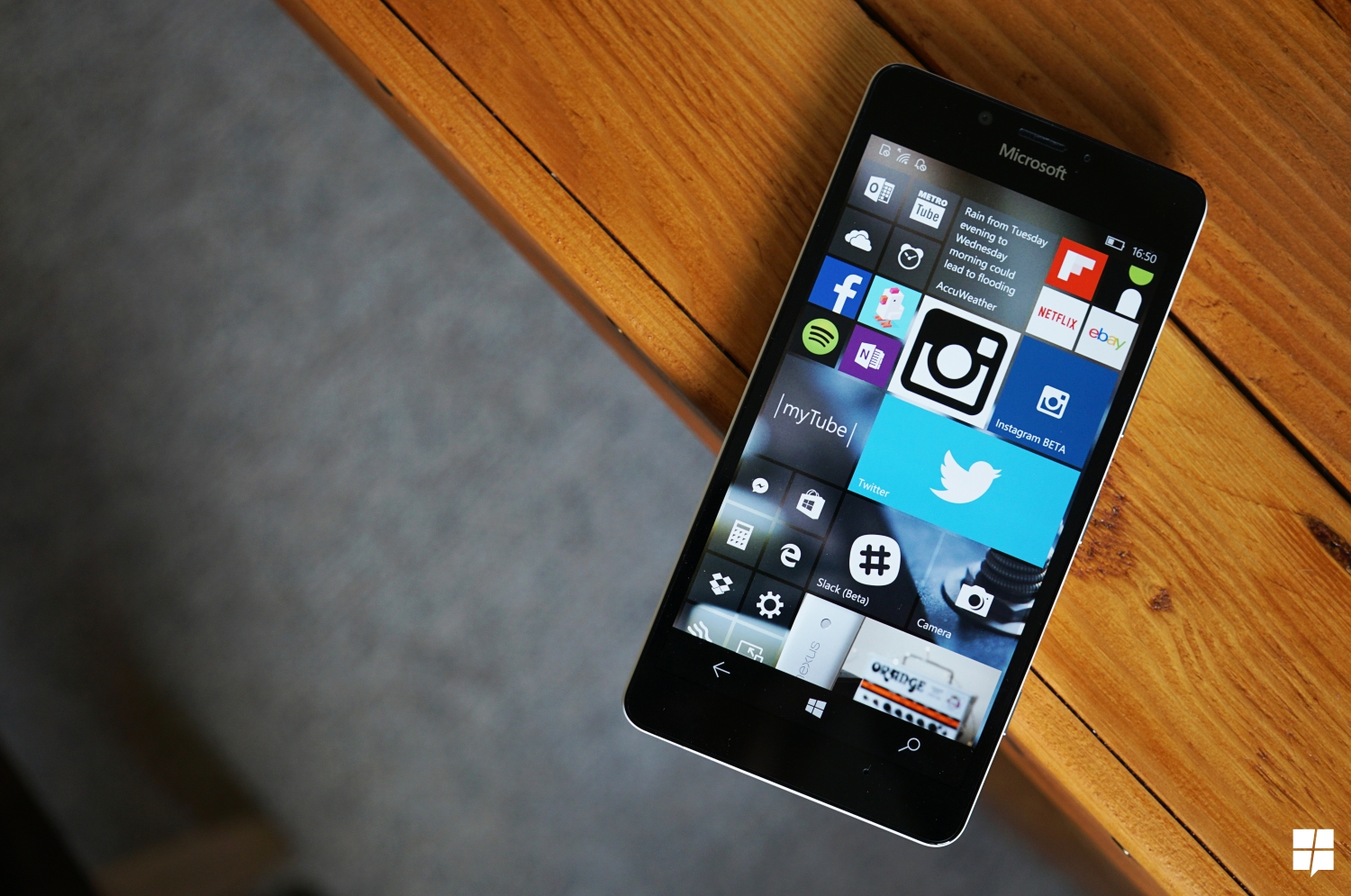 Windows 10 Mobile was released earlier this year. The OS still isn't available on a lot of popular Windows Phone devices, which prevented it from gaining a lot of market share. Back in July, the OS claimed 11.9% of the market share, which is pretty poor when compared to Windows Phone 8.1 — which claimed 79.1% of the market last month. Today, AdDuplex publish its Windows Device Statistics report for the month of August. According to the report, the OS now claims 14.0% of the Windows Phone market which means it gained about 2.1% of market share in one month. On the other hand, Windows Phone 8.1 now has 77.3% of market share.
The report also states that Windows 10 Mobile Anniversary Update is already on 52.4% of market share. The update already took over Windows 10 Mobile Version 1511, which claims 41.3% of the market. This is pretty impressive, considering the fact that the Anniversary Update was released just a week ago. Additionally, Windows 10 Mobile Redstone 2 (for Insiders) is already powering 6.3% of Windows 10 Mobile devices — which, again, is very impressive since Microsoft released the first Mobile Redstone 2 build for Insiders last week. In case you are wondering, the Lumia 535  is still the most used Windows Phone device with 12.3% of market share — followed by the Lumia 520 (10.4%), 640 (9.8%), 630 (8.1%) and 635 (6.3%).
Gallery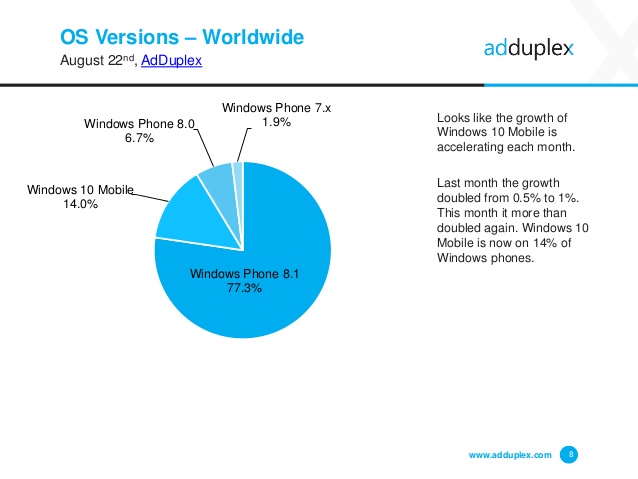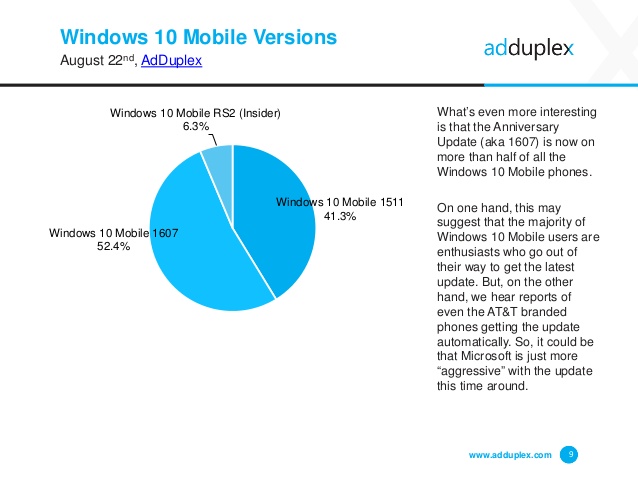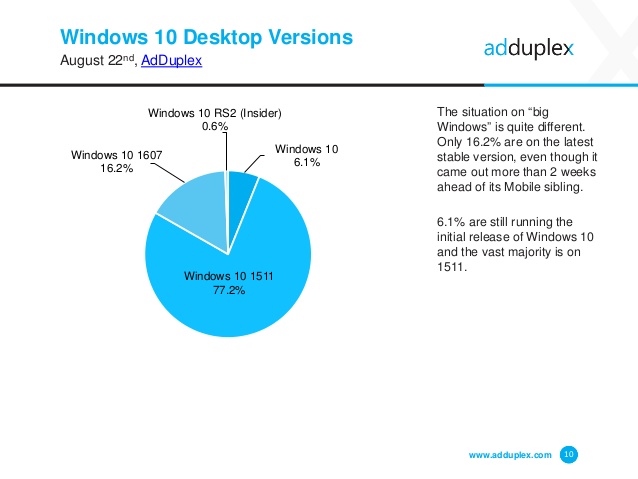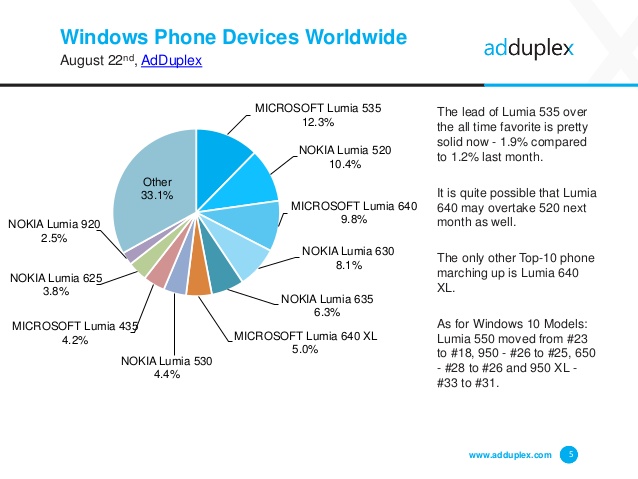 Moving over from Mobile, Windows 10 (PC) Version 1511 is powering 77.2% of Windows 10 PCs. For those unfamiliar, version 1511 was the November Update for Windows 10, which Microsoft released back in November of last year. On the other hand, the initial release of Windows 10 still powers 6.1% of all Windows 10 PCs which is quite interesting. Lastly, Windows 10 Anniversary Update is powering 16.2% of all Windows 10 PCs — and it'll likely gain a lot more market share next month as Microsoft is still rolling the update out to Windows 10 PCs. As for Redstone 2, only 0.6% of users are using Windows 10 Redstone 2 which is quite a different situation when compared to Windows 10 Mobile.
Looking at the report, it seems like Microsoft's Windows as a Service (WaaS) is working pretty well for the software giant. More than 16% of users are already running the latest Windows 10 update on their PC, and more than 50% of Windows 10 Mobile users are also running the latest update which is quite a huge improvement for the company compared to how updates worked out previously. For example, a lot of Windows users are still running Windows 7 and quite a lot of users are still using Windows Phone 8.1.
You can find the full report here.