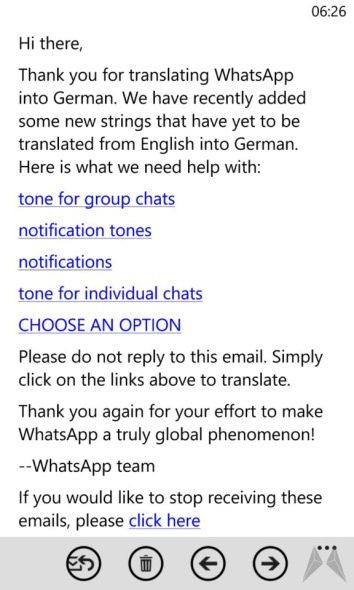 It looks like WhatsApp will be one of the first to introduce custom notification sounds to their Windows Phone app, if their language resource files are anything to go by.
One of MobileFlip.de's readers is a WhatsApp translator, and has been asked to translate the above phrase, which goes:
Hi there,

Thank you for translating WhatsApp into German. We recently added some new strings that have yet to be translated from  English into German.  Here is what we need help with:

tone for group chats

notification tones

notifications

tones for individual chats

CHOOSE AN OPTION
It is likely we will soon be able to know just from the sound of our phone who is messaging us, just like with custom ring tones.
Are our readers looking forward to this feature? Let us know below.
Via Mobileflip.de, thanks Frank and Matthias for the tip.