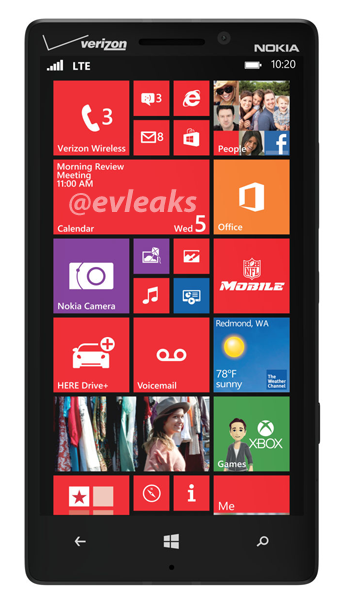 Well, evLeaks seems to have been busy today.  He just posted the above picture on twitter, claiming the handset is the Nokia Lumia 929, heading for Verizon this year.
The device features Verizon's usual nondescript styling,  but shows 3 columns and 5 1/2 rows of live tiles, same as the 1080P Nokia Lumia 1520 image which was leaked recently, suggesting either the handset also has a 1080P screen, or the higher tile count is also coming to 720P handsets.
The device does not however appear to be a 6-incher like the Nokia Lumia 1520, just  from looking at the size of the earpiece, microphone hole and camera, which should help satisfy those who want high specs without a pocket-tearing size.
What do our readers think of the device? Let us know below.