Windows 10 for Phones is making a buzz on the internet but while it brought a big smile for some users, majority of the users were left in the dark. Only a small number of devices made it to the first wave of update and the major part of Windows Phone users were disappointed.
If you are one of the disappointed user the XDA Forums have a nice trick for you. RustyGrom, a member at XDA Forums found a handy trick to install Windows 10 for Phones on unsupported devices. This may sound much exciting but as always everything has two sides. Apart from being illegal, this hack may destroy your device forever. Even Gabriel Aul on took twitter to warn everyone that this hack may eventually brick your device. This hack is only for hardcore and advance users and we highly recommend other users to close this article now. We or anyone WON'T BE RESPONSIBLE for your actions and the damage done to your device. Do this at your OWN RISK. Also this is just an explanation of the original work of XDA Forum members.
If you are still reading this article then we guess you are too much determined to try this hack and ready to even sacrifice your device. So let's get started.
We recommend you to flash your device using Lumia Recovery Tool before moving forward. This is done to basically empty the space from phone memory. I recommend not logging in and setting everything up yet and just waiting till the end and doing a reset and letting it restore after you're on Windows 10. This may not be required for your device but most likely is due to the space issue cited by Microsoft. You can see your available space in the About menu of the Windows Insiders app. Windows 10 for Phones requires at least 4 GB of free internal storage for a successful update. Make sure you have enough storage.
After flashing just add your Microsoft Account and download Windows Insider app from Windows Phone Store. DON'T update/download any other app.
Open the Insider App and take a screenshot of the About page (Go to …>About). This may come handy later.
Download the WPInsiderHacks file on your computer (Link- http://1drv.ms/1AdZxfm). *[This file has been optimized for Indian users. See bottom of the article for details on how to customize it for other regions.]
Open WPInsiderHacks.exe.
Connect your computer and device to the same WiFi network.
Now open WiFi settings on your device, select your WiFi network and turn on Proxy. Now enter your WiFi proxy address-192.168.x.xxx (Where "x" represent your address) and port-8877. **[Check bottom of the article to know how to find your WiFi address.]
Open Internet Explorer on your device and enter the following in address bar- http://192.168.x.xxx:8877 (Where "x" represent your address).
Tap on the link at the bottom to download the fiddler root certificate.
When prompted click open and then install to trust the certificate and hit OK at the confirmation.
Run the Windows Insider app and tap get preview builds.
Tap on which custom device. In my case I selected "Set to AT&T Lumia 635" and click the arrow at the bottom.
Accept the agreement and click the check mark at the bottom and the app will close.
Now turn off your proxy settings by going into WiFi settings on your device and open the Insider App again.
Tap on "Get Preview Builds" and select "Insider Fast" and click the arrow at the bottom.
Go into the phone settings and check for updates. You should have Windows 10 there for you to install.
*How to Customize the WPFlights.xml file for your region:
For installing Windows 10 for Phones on your unsupported device will require a few changes in a file named WPFlights.xml. You will find this file in the folder you downloaded in Step 4. Just find a valid model for your phone's carrier from Google and replace it as shown in the image below.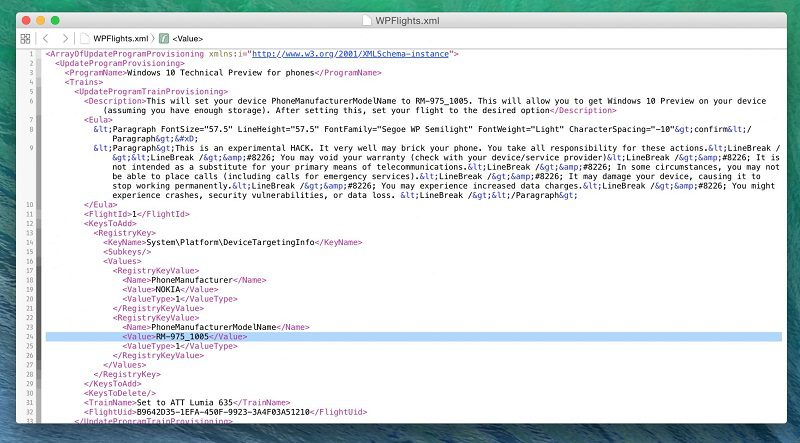 **How to find your IP address using Command Prompt:
Open your Start Menu and search for "Run". Type "Cmd" in the Run dialog box. Now hit OK. In the Command Prompt Window, type "IPCONFIG" command and hit enter. Now find IPv4 address under Wireless LAN adapter Wi-Fi. It should start with 192. See the image below for more information.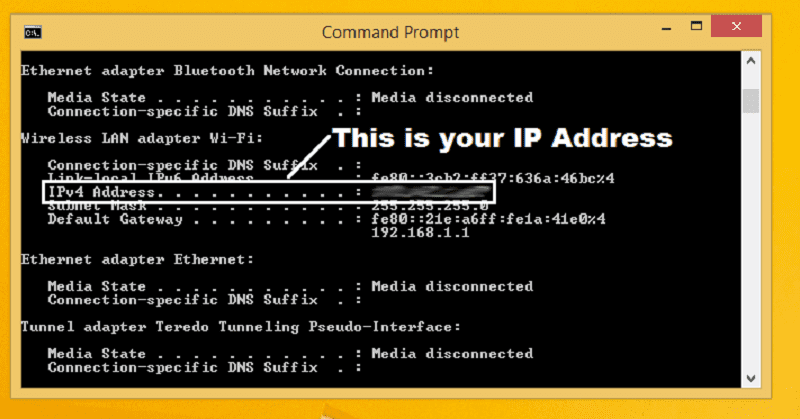 Some common issues:
Updating your unsupported Windows Phone device may get you in some of the problems. We are dealing some the common issues faced by a majority of users. Issues like crashing of Windows Insider app is due to the fact that your device is not supported. Flash your device with Lumia Recovery tool and then install the Windows Insider app on the phone memory.
Another issue faced by users was some random errors popping up during installation process and the end result was a failed update. Again these errors are basically trying to say that our device don't have enough storage. We recommend you to flash your device. Windows 10 for Phones requires at least 4 GB of free internal storage for a successful update.
So this was a full tutorial on how to update device to Windows 10 for Phones. We do recommend you to back up your device before updating because you may end up loosing your device forever. If you want you can check out the original tutorial at XDA forums Here. Also before winding up, a final warning, We will not be responsible for the damage/harm done on your device. Do this at your own risk. If you want any help from us, then don't hesitate to share in the comments section or tweet me at @anmol_112.