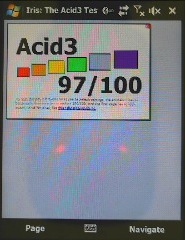 Torch Mobile, who makes the interesting but somewhat dowdy Iris browser, has achieved a new high for a mobile browser.  Using the webkit browser engine, they have managed to get 97/100 on the demanding Acid 3 web standards test.  This is a high water mark for a Windows Mobile browser and much better than the 72/100 that the iPhone's Safari achieves, even on the latest firmware.
The Acid 3 test is a browser HTML rendering test, which measures compliance with the latest Web 2.0 standards.
The Windows Mobile platform currently has rather an abundance of very good browsers, likely the result of intense competition in the field, but if Torch Mobile can work on the interface of their application they have a chance of achieving, like Opera, wide adoption.
See a video of the app in action below.
The current beta can be downloaded from Torch Mobile here.