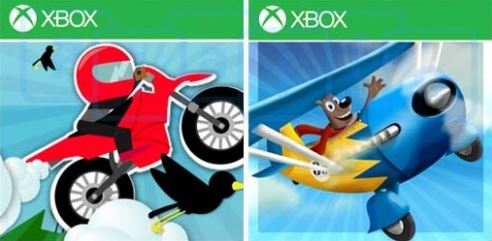 Two Xbox games which were exclusive to Nokia Lumia devices is now available to all Windows Phone devices. Both the titles are from Electronic Arts, TinyPlane and Dream Track Nation.
Tiny Plane:
Take on the role of a high-flying hound in Tiny Plane. Fly as far as you can in this infinite, high-score game. Collect power ups and dodge dangers as you stay on the tail of your feline foe.

• TO INFINITY…
Soar as high as you dare for as long as you can. Can you be the canine Amelia Earhart? Collect a variety of power-ups (and power-downs) that could be the difference between a long or short flight!

• PUT THE DOG IN DOGFIGHT
Keep an eye on your six as you fly, look out for homing missiles that will zoom in from behind, all the while being careful to dodge the mines in front.

• FRUIT n LOOPS
Collect fruit to increase your speed and go through hoops for a supercharged boost. Make sure you land to refuel often or you won't be flying far!
Download TinyPlane here from Windows Phone Store for $0.99.
Dream Track Nation:
In Dream Track Nation let your imagination run wild as you race to the finish in some of the craziest, most colorful and downright silly racetracks you've ever seen! Collect stars, use power-ups and jump huge gaps in this unique take on arcade racing. Use the incredible inbuilt track editor to create any track you desire, and then race it against your friends online! Dream Track Nation allows you to pair up with anyone in the world and see who's got what it takes to bring home the gold!
Download Dream Track Nation here from Windows Phone Store for $0.99.
via: Plaffo