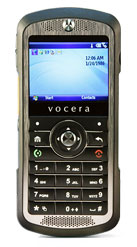 Vocera is a communication company that is centered in the health care industries, and they just gave our doctors a smartphone.
Today they began shipping their new smartphones that are made especially for doctors, so they can get everything the need instantly to the people that need it. This phone has one thing that makes it special, it run Windows Mobile 6.1 and it comes with clinical applications, enterprise access, cooperate email and all the medical software you would need to track your patients 1000 miles away. 
The phone also features all the other usual goodies such as voice dialing, all the communications, regular calling features and all you need to have a regular phone while having what you need for your job.
 Read the Reuters press release for the info.
Mr. J