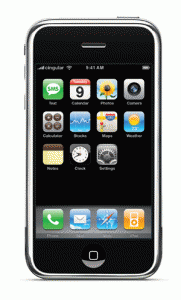 ARCChart brings us a bit of free analysis which not only serves to confirm my suspicions, but points the direction the whole mobile world is going to – more iPhone users buy their phone more for fashion than for function.
ARCChart came to this conclusion based on two surveys. One was a JD Power survey of 20 000 Americans, where the top reason (41%) people chose their phone was for style, much ahead of "ease of use" (23%). "Style" was even ahead of "received for free" (25%) which helps explain the recent rise in average cellphone prices.
Of course the archetype of expensive cellphones is the iPhone.  Rubicon Consulting asked iPhone owners which phone they switched from, and almost a quarter were from Motorola Razr (24%), again the once archetype of a stylish phone. ARCChart makes the point that while Razr's were amazingly successful (confirming again that people buy their phones for style), they were never 24% of the market, indicating that Razr users preferentially upgraded to an iPhone.
While capturing the Razr demographic can only be good news for Apple, it does rather undermine the argument many iPhone users make about how the real success of the iPhone was due to its easy to use GUI. It also rings a warning bell – things fall out of fashion as rapidly as they fall in – just ask Motorola, and unless Apple can successfully re-invent the iPhone regularly (or it achieves iconic status like the iPod) they may be in for a bumpy ride in a few years.
Of course, this being the Windows Mobile Power User site, the question arrives of how this affects us, usually stodgy beholders of function over style. Unfortunately it is increasingly clear that other companies do "get" the "style" strategy to greater sales, and are targeting product development towards it. This results in devices like the HTC Touch Diamond, which a ridiculously small 900 mAh battery and no microSD card, all in the name of saving a few millimetres in thickness, while including a strangely contoured back just for the sake of looks.  We may find our niche increasingly underserved, but hopefully in return we will reap the benefits of the network effect, and find our platform of choice increasingly served by 3rd parties.
Read the ARCChart research here