We don't see nearly enough giant eagles in media nowadays, let alone video game. After their brief incredible appearance rescuing Hobbits at the end of The Lord of The Rings, they've faded from the spotlight outside of the occasional unfunny parody. Thankfully, no longer do we have to live in the media void, deprived of the giant eagles we all love and crave! As now, The Falconeer is here! 
Having had enough of scaling fire-spitting volcanos – although we did discover an adorably piddly one – the big ol' falcons have changed locations, from a treacherous mountainous hellscape, to the vast calming expanse of the Ursee. 
From the mind of Thomas Sala, The Falconeer's world of the Ursee is a vast sea of explorable majesty, set in a world rife with bureaucracy that you're plonked in the middle of to stir things up. A bountiful coating of bird based government complete with regal houses and trading permits might sound bothersome, but it's used to paint a captivating vivid world that feels alive and rewarding, if a little tedious at times. 
After a short tutorialising chapter that eases you into the life of colossal bird ownership, you're left to spread your wings and fly. Temptingly, missions are available from the outset to begin the story proper, but the Ursee itself also holds its own tales to tell as you explore. 
Exploring on its own can be a great deal of fun, as Microsoft Flight Simulator taught me in my adventures around the globe, and it's all the more true when you're on the back of a giant bird. Soaring through the expanse of the Ursee feels nothing short of majestic. With fluid controls, it's a pleasure to glide around in idle flight while you soak in the scenery, venturing out across the sea. 
Not only does the Ursee have a rich tapestry of lore to uncover, but it's one damn good-looking tapestry to boot. With its low poly art style utilising striking accenting colours amidst seas and skies of deep velvety blues, the world looks utterly remarkable throughout. From the waves lapping and crashing up against cliff faces to the soaring wing tips of your falcon, it all looks incredible when tied together with lighting that shimmers off the ocean's surface while highlighting the polygonal beauty.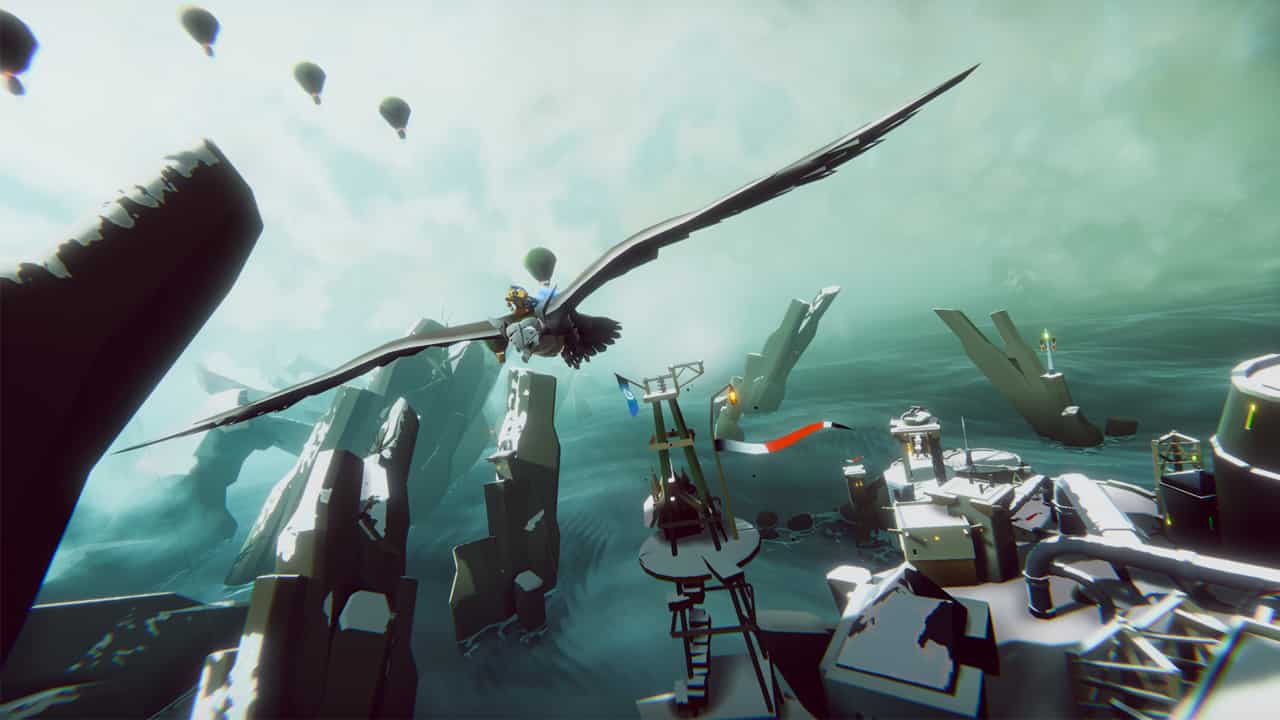 Accompanying you through your travels is a serene soundtrack that bolsters the warm relaxing glow of exploration. Warbling bass and some light throat singing might sound like an odd choice, but when soaring through the air it fits a wonderfully nomadic tone. Venture out far enough and encounter some trouble however, and the once relaxing dulcet tones will switch into a swashbuckling balad fit for fighting on the high seas. 
Encountering a flock of enemies suddenly turns The Falconeer into an aerial combat bonanza reminiscent of Ace Combat and Panzer Dragoon, only with a lot more featherly flapping. Positioning and aerial manoeuvres become key to your survival. Even strapping the biggest of bird based weaponry to your trusty companion, won't do much good as you'll often lose a game of heavily armed arcane chicken, being blasted out the sky by a swarm of pirates or freebooters. 
Remarkably, in my time playing The Falconeer I forgot about this surprisingly often, which got me handed my own rear more times than I would like to admit. When you're not doing some fancy flying and aerial acrobatics, enemies will deal a world of hurt, so it's vital to keep on top of them if you've got dreams of surviving and ruling the roost. 
To spice up the feathery firefights there's also a touch of customisation to keep things fresh and interesting. There's some light levelling to upgrade your bird and let them soar to new heights, provided (unlike me) you realise what the experience orbs that drop from enemies look like. There's also a choice of backgrounds in character creation that'll slightly change up the stats of your bird between agility and longevity should you be inclined. 
Stats can also be nudged in the right direction throughout each of The Falconeer's chapters through the use of biochemists, though the biggest gameplay change comes in the bevy of available weapons. Coming in a variety of different types and qualities, you'll be able to customise your playstyle somewhat in choosing between lighter or heavier weaponry to have at your disposal. 
Disappointingly, while choosing your character's background has an effect on your noble falcon companion, the story ramifications are non-existent. You undoubtedly get a lot of work done for the settlements on the Ursee as you progress through The Falconeer's story thanks to your falconeering prowess. 
However you're left feeling without much of a presence or personality despite the rippling effects of your actions chapter to chapter. Instead you're left roaming from town to town, doing what needs to be done to further the story without ever having much of a face or any character driven interactions which feels ultimately a bit hollow, despite the great fun of the story campaign. 
At first that hollow feeling stuck with me, dampening the otherwise enjoyable combat and serene exploration. The more that I played and explored however , the more that I fell in love with the Ursee as the character at the core of the Falconeer that changed from my actions as I discovered its rich history. 
By the end of my time with The Falconeer, I was fully hooked. Sneaking back into the press build to play the rest, that I can't yet tell you about, to get more of the fantastical world and gripping combat. If you've been craving more giant bird adventures yourself, and lets be honest who hasn't been, then The Falconeer is definitely a game to keep an eye on as it soars into full release on November 10th.