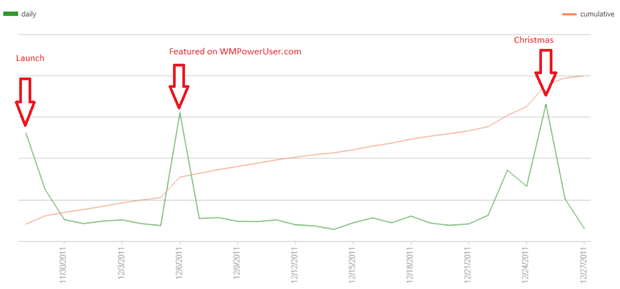 Every day we allow 2 developers direct access to our readers, and allow them to pitch their apps to you for free. We do this because we feel the most important thing a developer can do after creating a great app is telling people about it, and we know sometimes this can be very difficult.
Up till now we did not really know the effect of these postings, but Ken Stone has been generous enough to share the tale of his Christmas-themed app, North Pole Photo Booth, with the world.
He writes:
What you see is a graph of the downloads of the North Pole Photo Booth for its first month on the Windows Phone Marketplace (actual download numbers have been removed as they are not relevant to the discussion). Since this app was intended as a Christmas holiday themed app, this graph is perfect as it shows the effective lifespan of an app from launch to the main event — Christmas.

We Three Peaks

There are three primary peaks that jump out at us. The first is the launch peak, a very common and expected shape. I also purchased advertising on the windowsphonegeek.com App Wall for one month, but am unable to assess its impact given that the campaign started on the same day as launch. It got caught up in the launch peak. This was a good day for the app and got it off to a good start.

The second peak is the downloads after the app was featured on mspoweruser.com. This was the first time I've had an app written up there and, while the bump was expected, the magnitude of the bump was not. The peak is higher than the launch peak! Very impressed. Note to self, make sure all future apps are showcased on mspoweruser.com. I also submitted stories for review on other sites (wpcentral.com, wp7applist.com) but it did not get picked up on any other site, so there are no more peaks to look at until the main event. I can say that the ad revenue generated for the app was highest on this day, so the people attracted by the site were high quality to advertisers compared to the other peaks.

The 3rd and final peak is Christmas day. Ah Christmas. This peak is bigger than the other two and I assume are new phone users. That peak begs so many questions. This app was a holiday themed app and so was applicable to the day. Do all apps exhibit a similar peak? It was also a free app, so what does a paid app look like on Christmas? I hope people had fun using the app with their friends and family and that it put a smile on some faces.
He also notes that despite many Christmas-themed apps getting featured by Marketplace, it seemed Microsoft was favouring paid apps over free ones, and his was never picked.  He also notes, as expected, downloads and usage dropped off sharply after Christmas.
He also warns that despite the success of the app, he is far from ready to quit his day job.
Overall, I'm pleased with the app and it beat my expectations and so I'll call it a success. It made it into the top 2% of all apps and was positioned nicely among photo apps. However, I'm not quitting my day job anytime soon.
We would like to emphasize again the importance of doing a good job of promoting your apps. Elbert Perez, who made $61,000 from the Windows Phone 7 Marketplace last year, wrote:
Better marketing is just as important as better game development. I already knew that marketing your game is important before 2011, but 2011 proved that you have to aggressively market your game using different kinds of techniques like cross promotions, running ad campaigns on the web and on the phone (using ad duplex), blogging, and twitter.
Posting on a blog wont necessarily result in thousands of downloads, but it may get your app high enough up in the charts that the rest of the non-blog-reading Windows Phone 7 users can actually notice it and take things from there.
For those developers who are thinking of posting your apps on WMPoweruser.com (see here), please note we only do two per day, making it a competitive process, and it is incredibly helpful to have a well formatted post, and for for god's sake please include a QRCode.  You want people to be able to easily download your app, don't you?
Read Ken's full post here.