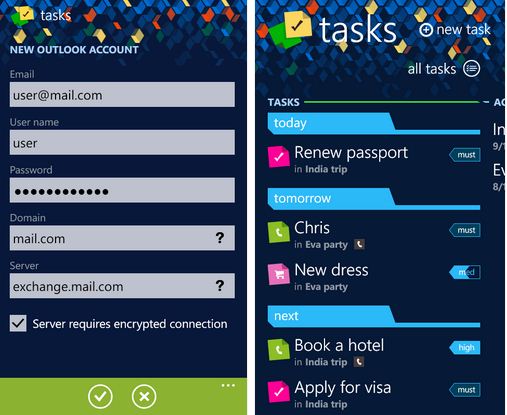 Tasks by Telerik is one of the new slickest personal task manager for Windows Phones. It just got better with new v1.3.
List of new features in this version,
– Synchronization with Microsoft Exchange 2007+ (2003 or older versions are not supported)
– Task Notifications/Reminders!
– Option to hide projects/categories from main page
– Other minor features and fixes based on the feedback
– Live Tiles support
– Added more icons and color options for the categories
You can download the free app here. There is a bad news along with this update, Telerik is planning to make this as a paid app from v2.0 ! !
Update: Those who have issues in syncing with Outlook/Exchange server, read below.
Please, change the value of the server field from https://mail.Microsoft.com   to https://mail.Microsoft.com /EWS/Exchange.asmx  , where https://mail.Microsoft.com  is your server and try again to sync your account. Some Exchange versions  randomly does not complete the full path.

A workaround of that and some fixes for reported issues are included into the update with version 1.31, that should be published at the Marketplace next week.