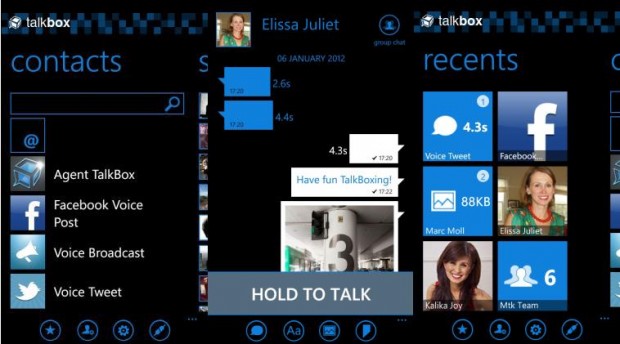 Last month we reported about TalkBox, a cross platform voice messaging service coming to Windows Phone. Its now available from Marketplace and allows you to send messages with your voice and text input.
App Features:
? Push-to-talk (PTT) INSTANT Walkie Talkie, voice messaging, text messaging, photo sharing and location sharing with your friends
? Cross-Platform Messenger
? FREE and works over WIFI, 3G and any other data network
? GROUP CHATS
? Mark your message as favorite
? Post voice to Facebook, Twitter and make broadcast to all your friends
? Address Book and Facebook contacts Integration
? 12 theme color
? Conversation History
Download it here from the marketplace.
See a video after the break.

Finally. TalkBox for Windows Phone is here.