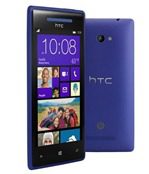 Good news for T-Mobile USA subscribers, who are often used to getting the lower-end smartphones vs the hero devices.
T-Mobile has announced that they will be releasing the HTC 8X on their network, and that the device will be running its HSDPA+ 42 Mbps network.
The HTC 8X comes with 4.3-inch 720p HD super LCD 2 display, is powered by a 1.5GHz dual-core Qualcomm processor with 1GB of RAM, has  16GB of storage and NFC support. It is also equipped with Beats Audio and has an 8MP camera with LED flash. The device will come in different colours such as California Blue, Graphite Black, Flame Red and Limelight Yellow.
Pricing and availability is to be announced soon, but the phones should be available in November on the network.
Update: T-Mobile has now made available a sign-up page where users can register their interest.