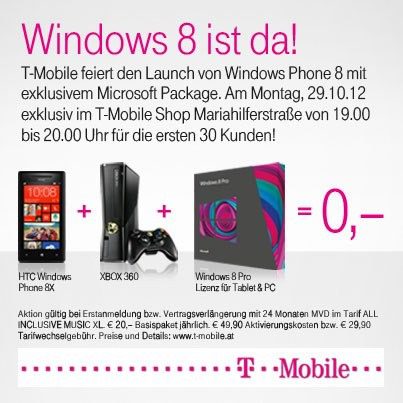 T-Mobile Austria is offering a great Microsoft package for HTC 8X buyers on the 29th October, but only in one location, for a limited time to limited people.
According to their Facebook post, the store at Mariahilferstraße in Vienna will be giving away an Xbox 360 and a boxed copy of Windows 8 Pro with every HTC 8X, but only to the first 30 customers who arrive between 19:00 and 20:00 on the 29th of October.  I guess we can be sure exactly how long that line will be.
T-Mobile will be offering the HTC 8X at € 29.99 which includes 2000 anytime minutes, 1000 free SMS and a Surf-Flat, which offers 4 GB of data. The deal also offers "All Inclusive Music XL", which allows free downloading and streaming from the Deezer service.
Read more at T-Mobile's Facebook page here.
Via WPArea.de