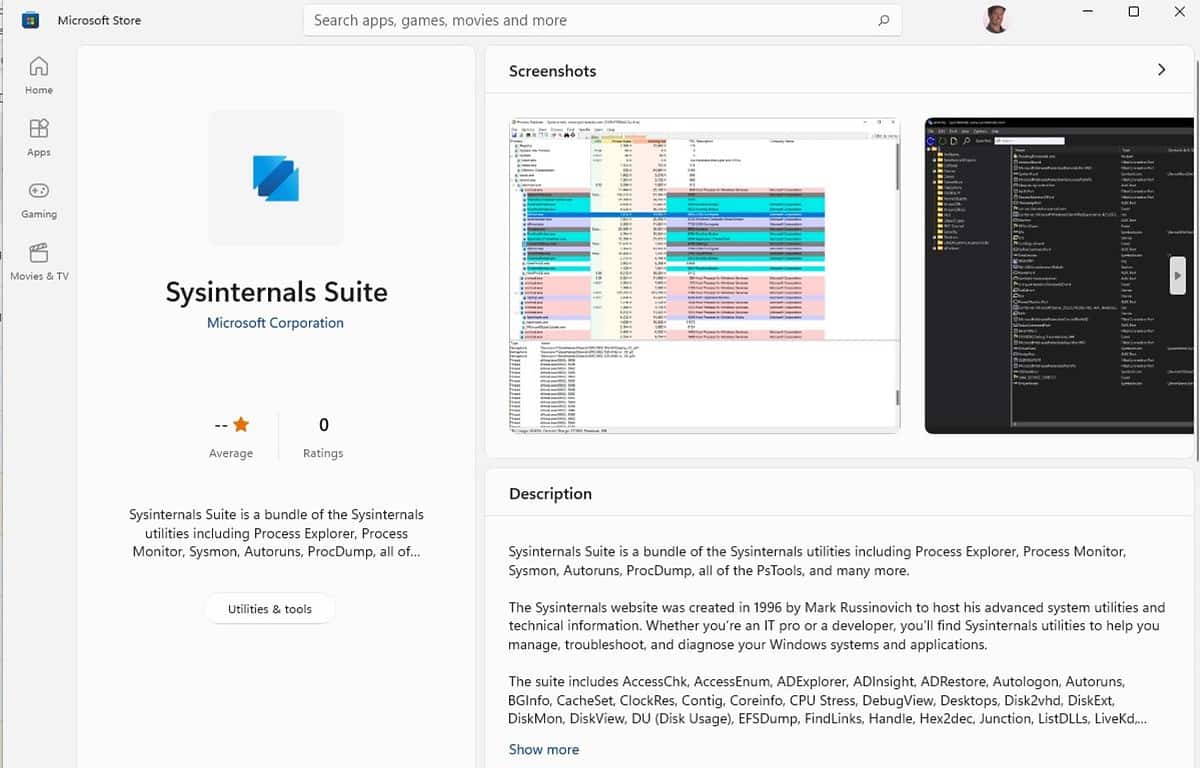 The popular Sysinternals Suite is now available for download from Microsoft Store. Sysinternals Suite includes no.of Windows utilities including Process Explorer, Process Monitor, Sysmon, Autoruns, ProcDump, and more.
The suite includes AccessChk, AccessEnum, ADExplorer, ADInsight, ADRestore, Autologon, Autoruns, BGInfo, CacheSet, ClockRes, Contig, Coreinfo, CPU Stress, DebugView, Desktops, Disk2vhd, DiskExt, DiskMon, DiskView, DU (Disk Usage), EFSDump, FindLinks, Handle, Hex2dec, Junction, ListDLLs, LiveKd, LoadOrder, LogonSessions, MoveFile, NotMyFault, NTFSInfo, PendMoves, PipeList, ProcDump, Process Explorer, Process Monitor, PsExec, PsFile, PsGetSid, PsInfo, PsKill, PsList, PsLoggedOn, PsLogList, PsPasswd, PsPing, PsService, PsShutdown, PsSuspend, RamMap, RDCMan, RegDelNull, Regjump, RU (Registry Usage), SDelete, ShareEnum, ShellRunas, Sigcheck, Streams, Strings, Sync, Sysmon, TCPView, Testlimit, VMMap, VolumeID, WhoIs, WinObj, and ZoomIt.
You can download the Sysinternals Suite here from Microsoft Store.