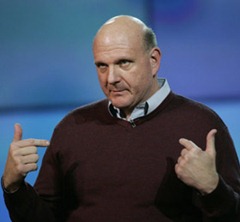 So says Joe Wilcox at Betanews, citing the success of Windows 7 after the shambles of Vista, which he related to Steve Ballmer similarly taking a hands-on approach to the division.
He notes:
"For the last 12 months, I've been running our Windows business," Ballmer told financial analysts in July 2009. It was a startling proclamation. The division, now called Windows and Windows Live, had no president running operations. There was Steven Sinfosky in charge of day-to-day Windows development, but no executive above him. Ballmer took the role that Sinfosky inherited in July 2009 as president. After bungling Vista, Microsoft Windows 7 right, under Ballmer's supervision.
Ballmer recently took direct control of the entertainment and devices division after seemingly disposing of Robbie Bach, with Andy Lees now reporting directly to him.
He goes on to assert Ballmer is a consummate salesman, which may be exactly what Windows Phone 7 needs at the moment.
Lastly, by taking control of Windows Phone 7 no-one but Ballmer will be blamed if it fails, which may be just the kind of incentive the leader of the software giant needs to throw every resource possible to avoid his own head rolling.
Read the full article at Betanews here.
Do our readers agree, or has neglect and lack of vision by Ballmer actually been the problem all along? Let us know below.