As 2018 ends, so does Steam's support for Windows Vista and Windows XP.
Announced back in June 2018, Steam will stop supporting the older Windows operating systems starting tomorrow.
Those who currently use Steam on their older computers will either have to upgrade to Windows 7 or above or give up on Steam altogether.
Valve's support for XP has been decreased for XP over the past year. The recent Steam Chat revamp which relies on a modern implementation of embedded Google Chrome wasn't available on older systems due to lack of support.
According to a recent Steam Hardware survey, Windows XP users make up around 0.12% of all Steam users. Hopefully, this means that not too many gamers should be disturbed with Valve pulling support for the system.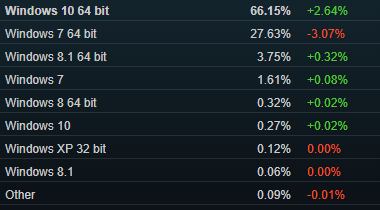 It's been a good run, Windows XP. We'll miss you.
Source: Steam