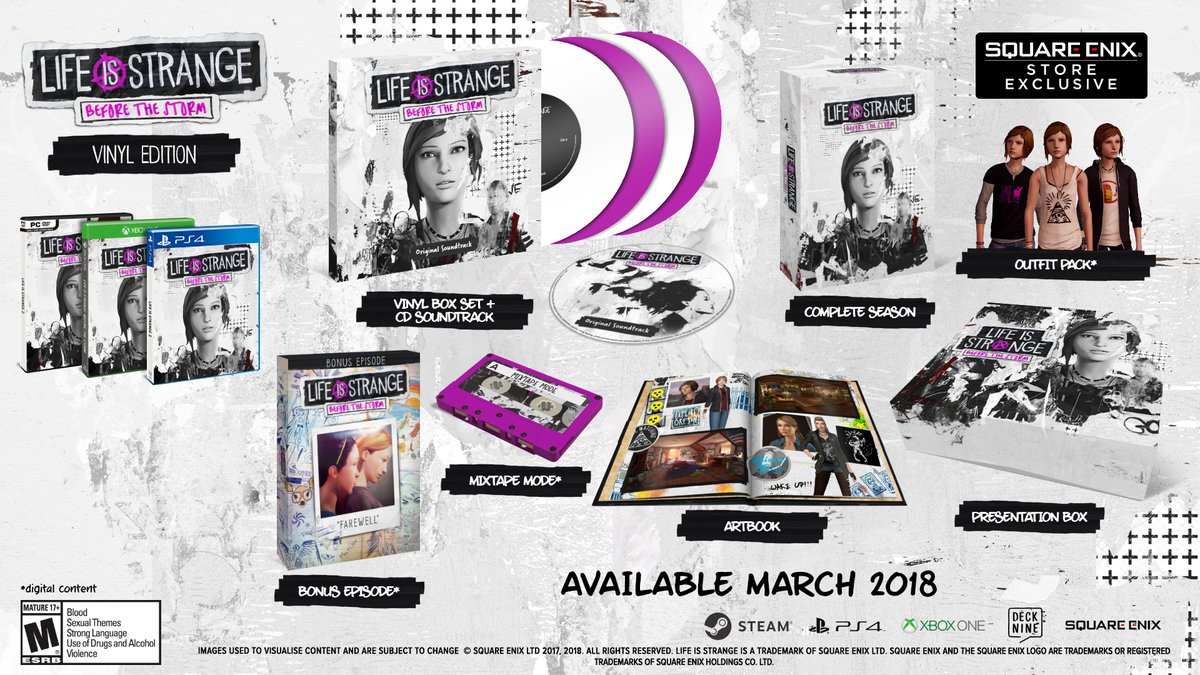 Chloe and Rachel's story may have ended in Life is Strange: Before the Storm, but there's still one more episode yet to release. Titled "Farewell," this special bonus episode lets people play as Max Caulfield one last time, and Square Enix has now announced when that episode will release alongside boxed editions of the game.
Farewell is set to release on March 6, 2018 alongside boxed editions of Before the Storm, which will release that same day in the US and on March 9, 2018 in PAL territories. Square Enix first released a boxed edition of the original Life is Strange series in 2016, but this time they're giving players more choices with three different editions of Before the Storm; the Vinyl Edition, the Limited Edition, and the Standard Edition.
Detailed by Square Enix, items included in each edition are as follows:
The Vinyl Edition includes an exclusive vinyl set of the original soundtrack; a physical artbook featuring art from Life is Strange: Before the Storm plus the original soundtrack on CD, all beautifully contained in an exclusive presentation box. This version will be available through the Square Enix e-stores and can be pre-ordered here.
The Limited Edition will be available from participating retailers and will include the physical artbook featuring art from Life is Strange: Before the Storm plus the original soundtrack on CD.
Alternatively, a Standard Edition will be available too if you'd prefer to have just the game on disc to add to your game collection. This will initially only be available in the US and will launch in other territories at a later date.
All three editions also include the following digital content:
Bonus Episode: 'Farewell' – play one last time as a young Max Caulfield in a special bonus episode…
Mixtape Mode – Design your own playlist from the Life is Strange licensed soundtrack and listen to it alongside a cinematic scene from the game
Outfit pack – Change up Chloe's look with three new complete outfits. Includes the Punk Doe, Hawt Dawg Man & Illuminati outfits
Episode 1 from the first Life is Strange season
If you pre-order the boxed edition from participating retailers, you'll also receive exclusive figurines of Chloe and Rachel.