The last time I wrote about Microsoft's need to develop a Zune HD2 with a controller pad, I got a tepid response. One reader in particular, Northerngeek, had some harsh comments
This is ridiculous, will never happen and seems like something a 15 year old dreamed up when he should have been working in class. It serves as nothing but to divide the market further, and if ever made into a product would be akin to the release of the Kin
Here is the drawing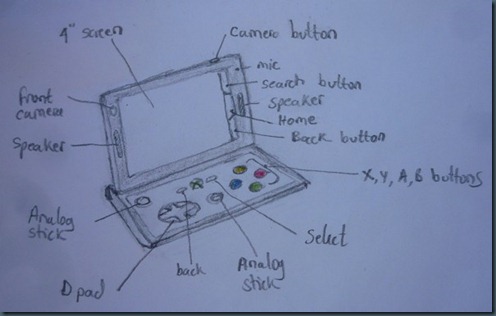 Earlier today, Sony unveiled their Next Generation Portable gaming  device accompanied with breathtaking specs to challenge the Nintendo DS and 3DS line of products. What's more interesting however, was engadget's scoop of the  Sony  Ericsson Experia Play (PlayStation Phone). Here is a video showing some games played from an emulator.
I think the video clearly demonstrates the superiority dedicated game controller buttons over just using a just a touchscreen with accelerometers and gyroscopes. I agree with ZDnet's Steve Chapman's tweet
Am I the only one out there who still hates soft-joystics for games, i.e. playing a side-scroller or FPS on a iPod Touch/iPad?
Sony, during the conference further upped the ante by introducing the Sony PlayStation  Suite which would expand  PlayStation games to Android phones and other compatible handhelds . That move challenges Microsoft's Xbox live system and gives Sony and Android a viable gaming platform to also go after Apple iOS with Game Center.
Sales  figures from the recent  financial reports from Apple and Nintendo do indicate that Microsoft is leaving a lot of money on the table. Nintendo managed to sell  2.5 million DS units in December, while Apple sold 19.45 million iPods  during the last quarter (average 6 million units a month). I think a Zune HD2 could be competitive in that space
What are your guys thoughts on the PlayStation Phone, NGP, iPod Touch and Microsoft's absence in that market?