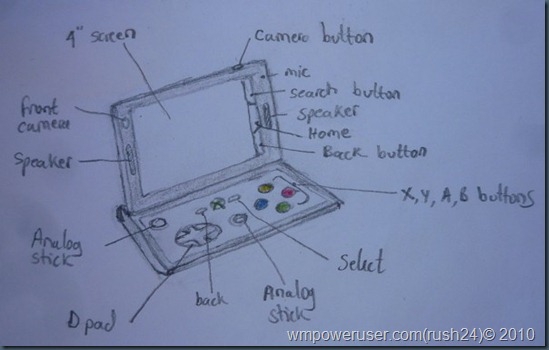 The Zune HD has not made much of an impact in the portable media device market despite having a better UI and sleeker hardware design (IMHO)than it's main rival, the iPod touch. One could argue that Microsoft should just cede the market to the iPod and with WP7 already featuring the Zune software, why should they bother with building a standalone player? I believe that the Zune HD lackluster sales performance was due more to Microsoft's bumbling strategy (In descending order of importance) than the iPods first to market advantage.
Having the device only available in the US
Lack of a SDK for developers to build 3rd party apps
Lack of Bluetooth and external speakers
Lack of accessories to extend the device
The Smartphone market is exploding and we are seeing the convergence of multimedia functions merged onto these phones that leaves a seemingly little room for standalone devices. It sounds insane to suggest that MS should enter this market however, there are few factors that point to a big opportunity being still available.
Firstly, it would be an excellent portable gaming system to go against, the iPod touch, PSP and especially Nintendo DS. The news last month reporting Nintendo DS sales of 510,000+ for the month of June! should be tempting enough and furthermore, the device would complement the Xbox 360 nicely.
Secondly, the Zune HD2 will fit well for people who already have a phone but who don't want to pay for Smartphone data plans or contracts. Included in this group are kids who still can't afford or need a phone but are still into gaming and social networking.
Thirdly, it would provide another avenue for MS to challenge Apple in their home turf if they built a native Zune client for Mac to go head to head with iTunes.
What it will look like:
The Zune HD2 will come in two flavors. The first one, pictured above,  with the following features in addition to what is currently available
4 inch AMOLED screen
Front facing VGA camera and rear camera with at least 5MP/ Hardware camera button
32 GB, 64, or 120 GB storage
Stereo speakers
Folding screen like on the HTC touch pro 2 for the controller pad (like shown in the picture)
Mic
Wi-Fi b/g/n
Bluetooth
Home, Search and back buttons
The second flavor will retain the current Zune HD form factor but lose the controller pad and front facing camera because it will be geared towards the low end.
The new Zunes will in effect be the current WP7 minus the phone part. Not only will this mean that Microsoft makes more money by selling the hardware, it keeps them from competing with their partners and provides a test bed for them to improve Zune and WP7 even further. The Zune client for the Mac effectively eliminates the adoption barrier for users who are already invested in the Apple ecosystem and opens a gateway to WP7.