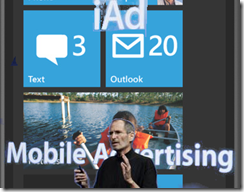 Press Release: Smaato introduces the widest range of SDKs in the mobile business. SDKs for iPhone/iPad (incl. iAd), Android, Symbian (Qt', WRT and S60) and Windows Phone 7 are available free to download at www.smaato.com/signup
Smaato Inc, the leading mobile ad optimizer and mobile advertising company announced its new SDK for mobile advertising platform SOMA supporting Windows Phone 7.
The new Windows Phone 7 SDK grants access to more than 50 ad networks worldwide to serve display or text ads within applications and mobile websites on Windows Phone 7 handsets. It is easy to use with the Silverlight app and XNA projects and integration is done with just a few clicks. All communications is done in the background to minimize the disruption for the user.
"The Smaato SDK for Windows Phone 7 was very easy to use. I just put the SomaAd control on my design surface, set the PubIisherID and the AdSpaceID and started getting ads" says Richard L. Heuser, Developer of AstroSky.
Ragnar Kruse, CEO & Co-Founder of Smaato states: "We are excited to complete our offerings of SDKs with the new SDK for Windows Phone 7. Windows Phone developers now can easily monetize their applications globally with one single connection to more than 50 ad network partners."
Developers can download all SDKs in the self-service portal at:www.smaato.com/signup.
About Smaato
Smaato (www.smaato.com) is a pioneering mobile advertising company that operates the mobile ad optimization platform SOMA (Smaato Open Mobile Advertising) and partners with publishers, developers and ad networks. More than 10,000 publishers have signed up with Smaato to monetize their content in 220+ countries; Smaato is managing 16 billion ad requests per month.
Comment:
As we have learned recently, free applications get downloaded 50-100 times more frequently than paid applications, and ad-supported applications earn more revenue than for-fee software.  Microsoft has an in-app ad solution, but this only supports USA.  Smaato's entry into the Windows phone 7 market with a worldwide product should therefore be very welcome to Windows Phone 7 developers.